Jetboating
The advent of the jetboat has given thousands of people the opportunity to explore the waterways and scenic beauty of New Zealand previously unavailable by other modes of transport.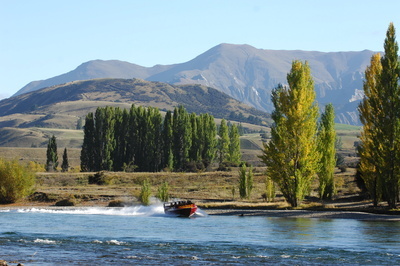 New Zealand will give you the ultimate jet boating experience. The scenery will blow you away, along with the skill required to navigate the jet boat around the uniquely uncompromising rivers of NZ, with deep waters, huge boulders and towering rock walls. Spins, speed and highly skilled driving combine to make your New Zealand jet boat ride a memorable ride.
The history of Jet boating.
The shallow braided streams of the Canterbury's shingle rivers provided Bill Hamilton with a challenge. This inventive and adventurous sportsman - engineer responded by advancing the Archimedes creation of a water screw in a tube, refining it in early stages to become a powerful locomotion force, which unlike a propeller, was contained within the boat and enabled high speed progress over the shallowest waters.
Since about 1953, first a trickle of admirers, then a flood of enthusiasts became equipped with Hamilton jets from the Christchurch factory. By 1957 boats were to be found throughout New Zealand, adventuring far into the rougher reaches of rivers and enjoying the remarkable and unique properties of the new water jet propulsion. The boats were almost all of wooden construction, which proved of limited value when in inevitable collision with rocks and the watercourse.
The fortunate appearance of fibreglass [circa 1958] pioneered more resilient hulls which could be mass produced hugely advancing the greatly expanding ownership, and preparing for the ultimate building by the 1970's of metal hulls intended to be a match for the solid encounters in the waterways.
An Association of owners of jetboats formed the New Zealand Jet Boat Association in 1962 with a foundation membership of 58 owners. The number has increased to about 2,000 at this time.
Similar Associations of jetboaters have formed in many countries around the world to address the many varieties of jet propelled vessels, wet bikes, jet-skis, pleasure craft, racing and marathon boats. The remarkable maneuverability of jet propulsion has attracted fishing vessels and high speed ferries, and is now universally accepted as propulsion in large vessels domestic and military.
Bill Hamiltons's remarkable contribution to marine propulsion has seen the jet universally employed and exploited by many nations, and in craft of many types and size. His achievements in engineering and his valuable services to manufacturing were recognised in June 1974 by his knighthood in that year's Queens Birthday honours.
Sir William Hamilton, Patron of the New Zealand Jet Boat Association, died in March 1978. Lady Hamilton accepted the invitation to continue patronage, and on her death in 1986 their son Jon, a foundation member took the roll to this present day.
Reviews / Comments for Jetboating
No reviews have been written write a review now.

Back to top

---