Mountain Air
Keith McKenzie, joint owner of Mountain Air with wife Robyn, received a Queen's Service Medal (QSM) for Public Service from the Governor General Dame Sylvia Cartwright at Government House in September 2001.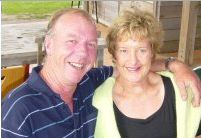 Keith is the Company's helicopter pilot, he and his wife formed Commercial Helicopters Ltd, trading as Mountain Air, in 1980.
The Company started helicopter and aeroplane scenic flight operations in the Central North Island's Volcanic Plateau and has since expanded to provide schedule flights between Auckland International Airport and Great Barrier Island in the Hauraki Gulf.
Keith has assisted the police with search and rescue, on Mt Ruapehu in the Tongariro National Park a World Heritage Site and in the Whanganui National Park, over the years. Keith has also provided police with helicopter assistance when apprehending various dangerous and disturbed people.
Keith's particular expertise is using the long line – 150 feet is a typical example – under the helicopter to transport loads precisely into small, enclosed areas. The helicopter is regularly used by vulcanologists studying and testing the thermal and volcanic activity in the hot crater lake of Mt Ruapehu, for film shoots and magazine photography.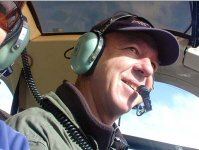 In 1995 & 1996 Mountain Air won the Malcolm Baldrige Business Development Quality Award in the Central North Island area. As well, the Company won the NZ Business Development Quality Award in 1996 and 1997. After winning the award in 1997 the NZ Ministry of Commerce sponsored Keith and Robyn on a study tour of USA Quality Award winning companies. They visited the following winning companies in USA; Granite Rock in Watsonville California; Solectron in San Jose; Corning Incorporated in Corning; National Institute of Standards and Technology; IBM Rochester Minesota; Custom Research Incorporated; Raytheon TI Systems and GTE Directories Corporation in Dallas Fort Worth.
Tourism New Zealand awarded Mountain Air The Best Small Operator Award in 1996. Since then the Company has been a finalist in the Transportation and Touring Section of the New Zealand Tourism Awards in 1997 and 1999. Qualmark Endorsed Visitor Activity qualified in 2003
Mountain Air began developing the aeroplane division in 1989, using a Cessna 172 and 206 to conduct scenic flights over the Tongariro National Park. The company established an airstrip on a high country sheep station airfield at the base of the active volcano, Mt Ruapehu. Recently passengers have had the added attraction of viewing sites in the Park where filming for the Lord Of The Rings took place.
Two Britten Norman Islanders and two Piper Aztec aircraft were added to the fleet and services extended to provide New Zealand wide charter. Schedule services were developed to provide several flights a day between Auckland International Airport, Whangarei and Great Barrier Island in the Hauraki Gulf in 1998. Special window kits have been put into the two Islander aircraft to provide more windows so passengers can see more.
Mountain Air has focused on becoming a specialist airline providing twin engine, small aircraft services to off the beaten track country and mountain places. Today the Company transports international visitors and VIP to various remote luxury lodges and airfields for the pursuit of relaxation, the wilderness experience, hunting, fishing, sightseeing and trekking.
Robyn McKenzie Owner / Director. 2004

TAUMARUNUI
PO Box 152
Taumarunui
Tel: +64 7 895 8820
Fax: +64 7 895 3405
helicopter.ruapehu@xtra.co.nz
Helicopter Services
Aircraft Charter
MOUNT RUAPEHU
PO Box 27
Mount Ruapehu
Tel: +64 7 892 2812
Fax: +64 7 892 2703
mountain.air@xtra.co.nz
Toll Free 0800 922 812 (NZ)
Tongariro National Park
Scenic Flights
AUCKLAND
PO Box 53-033
Auckland Int'l. Airport
Tel: +64 9 256 7025
Fax: +64 9 256 7026
gbx.mountainair@xtra.co.nz
Toll Free 0800 222 123 (NZ
Scheduled Flights
Auckland, Whangarei
& Great Barrier Island

Reviews / Comments for Mountain Air
No reviews have been written write a review now.

Back to top

---