Vanuatu
Vanuatu is only around two hours flying distance from Auckland, New Zealand. Cradling the islands of Iririki and Ifira and located around a magnificent natural harbour is Vanuatu's capital Port Vila.
Vila is the traveller's gateway to Vanuatu and is the only town on the island. Vanuatu is clean green and uncluttered the Vila waterfront is so beautiful that you can see live coral and tropical fish from the seawall.
Vanuatu is made up of 83 islands and many of them are home to some of the most unique intact tribal cultures in the world, speaking 105 distinct languages.
In 1905 the Anglo-French Condominium of the New Hebrides was created giving France and Britain dual administration. In 1980 the country achieved independence and gain the new name of Vanuatu. The food still has the French influence. The Vanuatu Islands are simply natural wonders of the world.
The weather in Vanuatu
In April to October temperatures range from 18 to 28 degrees Celsius. In November and December Vanuatu is warmer. January to March is hot 26 to 34 degrees Celsius and sometimes wet, this is the low season for tourists. You will find good travel deals around this time.
How to get to Vanuatu
Air Vanuatu flies from Auckland, New Zealand on Wednesdays and Saturdays
Entry into Vanuatu
You must have a valid ongoing or return ticket and a passport that is valid for four months beyond your intended stay. New Zealand passport holders do not need visas.
Where to stay in Vanuatu
There are accommodation options for all budgets from backpackers and bungalow to the world-class resorts.
What to do in Vanuatu
There are a number of choices of different tours throughout the Vanuatu Islands. You can enjoy a two-hour sight seeing bus tour around Port Vila or take a weeklong kayaking, game fishing or sailing trip throughout the islands of Vanuatu. Visit the market that is open Monday to Saturday. One of the best stores is the back street store for the South Pacific's best homemade jams and pickles. Take a day trip to Iririki Island or stay the night. Iririki is a great romantic honeymoon destination very beautiful, for couples of all ages.
VAN Air and private charters provide access to the outer Vanuatu Islands. Things to try on those islands include the Pentecost land dive where bungy jumping started. Tanna Island and the world's most accessible volcano. Scuba diving the magnificent Espiritu Santo on reefs. Take a look at the wreck of the President Coolidge. All of these sights are only an hour by plane from port Vila.
How to travel around Vanuatu
Vanuatu has a good selection of taxis and minivans with the mini buses being the budget option. All you have to do is hail one of these travelling options.
Eating in Vanuatu
Seafood in Vanuatu is fantastic but great local foods do include; laplap a taro paste, nautou (ground pigeon), rousette (fruit bats), escargots (snails) and nems (spring rolls).
Vanuatu has around 50 restaurants and cafes around Port Vila offer a large range of dishes.
You will find some great Vanuatu resort restaurants.
Shopping in Vanuatu
Port Vila is Vanuatu's only duty-free port and a shopper's paradise with the mix of French, English and Melanesian cultures. You will find French perfume, champagne and patisseries. Vanuatu has a Chinatown in Rue Carnot and is a great place to shop for bargains. You will also find souvenir outlets, jewellery and gift shops to buy your local arts and crafts; this is where you can buy your coloured sarong and board shorts
Map of Vanuatu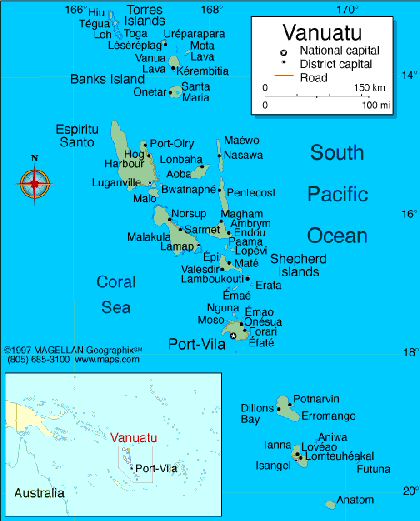 Vanuatu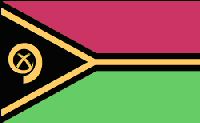 Geography
Vanuatu is an archipelago of 83 islands lying between New Caledonia and Fiji in the South Pacific. Largest of the islands is Espiritu Santo (875 sq mi; 2,266 sq km); others are Efate, Malekula, Malo, Pentecost, and Tanna.
Government
Republic.
History
The first settlers are believed to have arrived approximately 3,500 years ago from New Guinea and the Solomon Islands by canoe. The islands were sighted by Pedro Fernandes de Queiros of Portugal in 1606 and were charted by the British navigator James Cook in 1774, who named the archipelago New Hebrides, after the northern Scottish islands. Competing British and French claims to the islands led to the formation of a condominium government, allowing for joint British-French rule in 1906. The islands' plantation economy, based on imported Vietnamese labor, was prosperous until the 1920s, when markets for its products declined. Diseases brought by missionaries, sandalwood traders, and others helped reduce the population from approximately 1 million in 1800 to 45,000 in 1935. The islands served as a major Allied base in World War II. After World War II, the indigenous Melanesians began lobbying for independence. In 1980 the country achieved independence and was renamed Vanuatu.
A brief rebellion by French settlers and plantation workers on Espiritu Santo took place in May 1980. Britain, France, and Papua New Guinea sent soldiers, who quelled the revolt, which the new government said was financed by the Phoenix Foundation, a right-wing U.S. group.
In July 2002, former prime minister Barak Sope was convicted of forgery. Alfred Maseng was elected president in April 2004, but was forced to step down when his criminal record was revealed. In Aug. 2004, Kalkot Mataskelekele was selected from 16 candidates as the new president. He is the country's first president to hold a university degree.
Reviews / Comments for Vanuatu
No reviews have been written write a review now.

Back to top

---