Tonga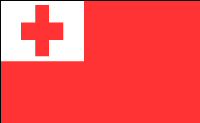 Geography
Situated east of the Fiji Islands in the South Pacific, Tonga (also called the Friendly Islands) consists of some 150 islands, of which 36 are inhabited. Most of the islands contain active volcanic craters; others are coral atolls.
Government
Hereditary constitutional monarchy.
History
Polynesians have lived on Tonga for at least 3,000 years. The Dutch were the first to explore the islands, landing on Tafahi in 1616. British explorer James Cook landed on islands in 1773 and 1777, and dubbed them the Friendly Islands. The current royal dynasty of Tonga was founded in 1831 by Taufa'ahau Tupou, who took the name George I. He consolidated the kingdom by conquest and in 1875 granted a constitution. In 1900, his great-grandson, George II, signed a treaty of friendship with Britain, and the country became a British protected state. The treaty was revised in 1959. Tonga became independent on June 4, 1970.
The government is largely controlled by the king, his nominees, and a small group of hereditary nobles. In the 1990s a movement began aimed at curtailing the powers of the monarchy, and the Tongan Pro-Democracy Movement (TPDM) has continued to gain in popular support. In 1999, Tonga gained UN membership.
The king's official court jester, American Jesse Bogdonoff, a former salesman of magnets to relieve back pain, was sued by the government in 2002 for squandering $26 million of Tonga's money (40% of its annual revenue) in unsound investment schemes. In 2004, he agreed to pay a $1 million settlement.
The king, who celebrated his 85th birthday in 2003, has grown increasingly authoritarian and has curtailed press freedom.
In 2004, the national airline was forced to close after running out of money for repairs.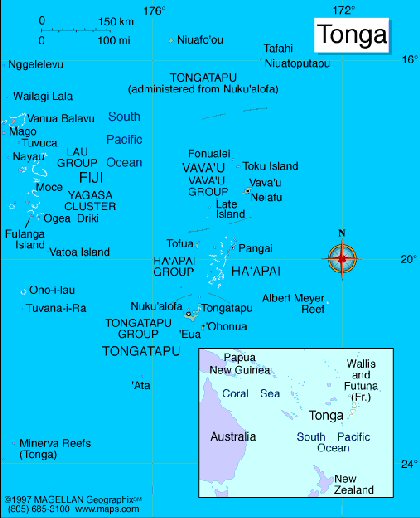 Reviews / Comments for Tonga
No reviews have been written write a review now.

Back to top

---