Tahiti and French Polynesia
French Polynesia and Tahiti is the popular world image of an idyllic Pacific Island paradise. Tahiti and French Polynesia is famous for Captain James Cook, French explorers, Club Med, Marlon Brando and the French Post-Impressionist painter Paul Gauguin.
French Polynesia is made up of five archipelagos, the Society Islands, the Tuamotus Islands, the Marquesas, the Gambiers and the Australes. French Polynesia is spread over a large area of the Pacific Ocean. This French overseas territory is around the size of Europe and has a beautiful Island to suit all the travelling tourists.
The Society Islands includes Tahiti, Moorea and the paradise of Bora Bora know as the 'Pearl of the Pacific'. The Tuamotus and the Marquesas are popular tourist chooses. French Polynesia and Tahiti is very a very popular location for honeymoons with the settings for honeymoon pictures fantastic.
If you were planning your honeymoon or holiday vacation, French Polynesia would be a great choice. The hotels and food are world class.
The weather in French Polynesia and Tahiti
French Polynesia is a year round destination with less weather variations than other Pacific Island travel paradises. The cooler and dryer months are June to December at around 25 degrees Celsius.
How to get to French Polynesia and Tahiti
Air Tahiti Nui has three flights a week from Auckland, New Zealand.
Air New Zealand has six flights a week from Auckland.
How to get into French Polynesia and Tahiti
You must have a passport valid for at least three months from your Papeete arrival date. A return or onward ticket to at least two further destinations is required.
If you wish to stay for long periods please enquire at your local French Embassy.
Where to stay in French Polynesia and Tahiti
Tahiti and French Polynesian hotel accommodation is available for all travel budgets from backpackers, pensions and guesthouses, to the finest hotels, Club Med and resorts. Your hotel could be a bungalow perched on stilts with glass floors and ladders to the lagoon below.
Travelling around French Polynesia and Tahiti
Scooters are the most common form of transport for travel around Tahiti and the rest of French Polynesia. You can also travel on Le truck local buses are also a budget way of travel around Tahiti. Rental cars are also available on Tahiti and the other larger islands. In Tahiti, like the rest of French Polynesia drive on the right side of the road.
What to do in Tahiti and French Polynesia
You can feed the sharks on most French Polynesian Islands the sharks are only metres away.
There is a large number of lagoon cruises available on any of the Tahitian islands. There are cruises to suit all tourists, from relaxing island cruises to adventure cruises.
Snorkel the amazing lagoon on Bora Bora that is three times larger than the island and home to over 700 species of fish. Take a Maaramu day tour that is exclusive to Club Med Bora Bora. Swim with the giant Manta Rays and Sting Rays then enjoy a relaxing picnic lunch. Rent a jet ski and cruise around Bora Bora.
Eating in Tahiti and French Polynesia
In the Tahitian Islands shops and businesses close from noon until two when tourists flock to the cafes and restaurants.
French provincial and tradition Tahitian are the dominant cuisines but thee are plenty of other choices.
Seafood is popular as with all Pacific Islands and there is plenty of variety for the traveller including, reef and ocean fish, clams, sea urchins, crayfish, and fresh water shrimps. In addition to a la carte offerings most restaurants offer a special of the day, a plat de jour.
In Papeete one of the best ways to eat is at the roulettes which are mobile vans located along the waterfront.
The signature dish of French Polynesia is Poisson Cru that is fresh marinated fish that comes in all styles, the most authentic of which uses lime juice and fresh coconut milk.
For a drink there are averagely priced local beer and French wines, which are cheaper than other imported wines.
Shopping in Tahiti and French Polynesia
The local Polynesian arts and crafts are popular along with the loose or mounted Black Pearl. You can also by duty-free and a good collection of French designer labels.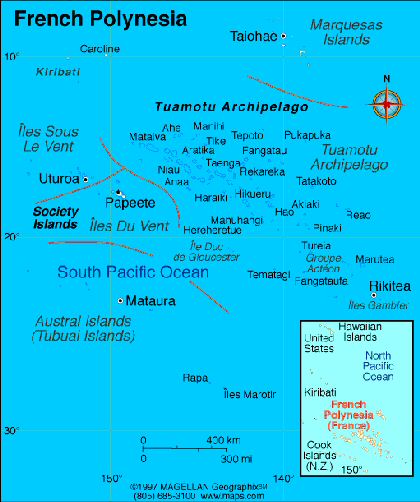 Reviews / Comments for Tahiti and French Polynesia
No reviews have been written write a review now.

Back to top

---