New Caledonia
New Caledonia (New Scotland) is only two and a half hours from Auckland, New Zealand and is a mix of the Pacific Islands experience with a French flavour.
New Caledonia's history
Named by Captain James Cook in 1774 the New Caledonia Islands were first populated by the Kanaks around 4000 BC. In 1853, the French admiral Febvrier-Despointes claimed New Caledonia. New Caledonia is France's largest overseas territory.
Features of New Caledonia
New Caledonia boasts the world's largest coral lagoon, making it a snorkelling and scuba diving El Dorado. Noumea is a great destination for shopping and the exciting nightlife of a city. After enjoying Noumea move to one of New Caledonia's outer Islands for sun, sea, swimming and snorkelling.
Weather in New Caledonia
The weather is marked by two seasons. September to March is around 25-27 degrees Celsius and humid with moderate rainfall. April to November is slightly cooler at 20-23 degrees Celsius and dry
How to get to New Caledonia
Aircalin has four flights a week from Auckland, New Zealand. Air New Zealand has four flights a week from Auckland.
New Caledonia's tourists will arrive at Tontouta International airport that is 45 minutes from Noumea.
New Caledonia tourist entry requirements
A passport that is valid for at least six months from the arrival date in New Caledonia. New Zealanders do not require a visa for stays of up to three months but other country may require visas. A return or onward ticket is required
Where to stay in New Caledonia
New Caledonia has many tourist accommodation options from backpackers and youth hostels to the top rated 5-star hotels and resorts.
Travelling around New Caledonia
The main way of the tourist travelling around New Caledonia is by rental car. As in France you drive on the right in New Caledonia. There is an efficient bus service every 15 to 20 minutes Monday to Friday and every 30 minutes during the weekends. New Caledonia day passes providing unlimited travel is available.
What to do in New Caledonia
Just a 20-minute flight from Noumea is the Isle of Pines. This beautiful Island is worth a day trip for some snorkelling, diving, and kayaking or pedal boating. Rent a bicycle or car and explore the bays, beaches and markets. Go on a 4wd tour of the Island. After your day of tourist adventure enjoy a meal at Le Meridian Ile des Pins Resort.
Try snorkelling off Ile aux Canard (Duck Island), a five-minute water taxi ride from Noumea. Lunch at the beautiful Coral Palms Resort only 15 minutes from Noumea on an inlet.
Explore Noumea on Le Petit Train. Visit the spectacular Centre Culture Tijbaou, a showcase for Kanak and Pacific culture in New Caledonia. The markets at Baie de la Moselle are worth an early morning start. This is where the tourist can see a wide range of New Caledonian fresh produce and fish. On Thursday night the market in the city is worth a visit.
Learn more about the history of New Caledonia and Noumea by visiting the Maritime Museums.
Where to eat in New Caledonia
The two most popular beaches in Noumea are, Baie des Citrons and Anse Vata these offer a great selection of top restaurants with price ranging from average to high. Noumea has over 130 restaurants; you can enjoy food from around the world as well as the French and Pacific flavour.
For the taste of the Pacific, try "bougna";, a combination of chicken and lobster/fish with yams, sweet potatoes, bananas and coconut milk wrapped in banana leaves then cooked in a ground oven.
For a drink there are well priced New Caledonian beers and expensive imported beers. You also have a wide variety of French wines.
Shopping in New Caledonia
You will find some of the latest European fashions including, dresses, shoes, jewellery, perfumes and cosmetics as well as New Caledonian local Melanesian arts and crafts

Map of New Caledonia

New Caledonia and Dependencies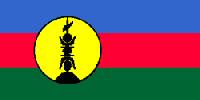 New Caledonia (6,466 sq mi; 16,747 sq km), about 1,070 mi (1,722 km) northeast of Sydney, Australia, was explored by Capt. James Cook in 1774 and annexed by France in 1853. The government also administers the Isle of Pines, the Loyalty Islands (Uv'a, Lifu, and Mara), the Belep Islands, the Huon Island group, and Chesterfield Islands. The native people are Melanesians called the Kanak. In 1984, the French National Assembly passed a law that granted internal autonomy to New Caledonia. In 1998 the Noumea Accords postponed discussions about independence for the territory until at least 2013.
Reviews / Comments for New Caledonia
No reviews have been written write a review now.

Back to top

---