Driving in New Zealand
Driving in New Zealand is easy with tourist routes and roads well sign posted. New Zealand's major roads are sealed dual carriageways with motorway/expressway or highway style roads in the major cities, Auckland, Hamilton, Wellington, Christchurch and Dunedin with unsealed roads to remote areas of NZ.
New Zealand road signposting follows standard international symbols and all distances are in kilometres (km). The Speed limits are 100kmph on the open road with 50kmph in built up areas. All other changes of area speed limits are well sign posted.
Seatbelts must be worn at all times in both the front and back seats.
New Zealand requires all drivers to give way (or yield) to all traffic crossing or approaching from the right.
Moving home New Zealand style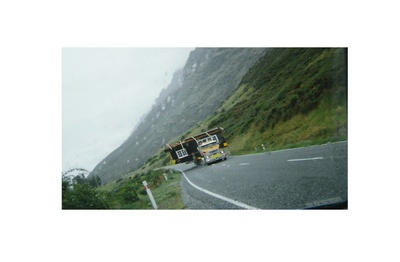 There are many great small towns to see if you are driving around New Zealand by rental car or rental motorhome.
Motorhomes are seen as one of the best ways to see New Zealand with many campgrounds and places to stop to stay the night. The self-drive holiday around New Zealand can be very relaxing with great driving conditions and easily followed signs.
International Driving Licences and Permits
You can legally drive in New Zealand for up to 12 months if you have either a current driver's licence from your home country or an International Driving Permit (IDP).
Recent law changes mean all drivers, including visitors from other countries, must carry their licence or permit at all times when driving. You will only be able to drive the same types of vehicles you are licensed to drive in your home country.
Make sure your driver's licence is current. If your licence is not in English, you should bring an English translation with you, or obtain an IDP. Contact your local automobile club for further details about obtaining a translation or an IDP.
Reviews / Comments for Driving
Rating Averages
Back to top

---