NewZealandAtoZ reviews; Radisson, Denarau Island Resort, Fiji
We arrived in Nadi, got through customs and easily found our hotel transfer, a company called Coral Sun. We were taken to our hotel in a early 90s Mercedes by a great driver who told us everything about Fiji; from where to shop to where to go to get a good cheap Indian meal (we tipped him $5 even though he did not expect anything).
When we drove into the Denarau Island Resort and passed all the other well known hotel chains then up to the Radisson (we were happy to see it looked no better or worse than any of the others). After getting out of the taxi we were greeted by the friendly staff with a free drink of iced tea.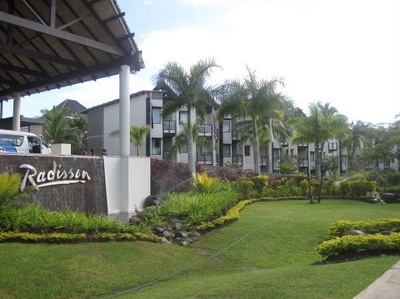 Radisson, Denarau Island Resort, Fiji
The rooms were better than average being clean and tidy and with about 9 TV channels on a plasma TV- including kids channels. Bring DVD's as each room has a DVD Player. Each room also has internet access; I just plugged in and got started, very easy.
The Staff are all very friendly and do not expect tips (but if you were to give them they would really appreciate them). Most staff and Fijians work on Fiji time (and for Fiji pay). That means things get done but take time. Don't get upset if people are not where they should be at a time or if your coffee takes longer than expected.
I do think the Radisson looked to have the best pool complex with a graduated artificial beach feel about it after looking at the other hotels. Kids had a hydro slide and many pool options. There was also an adult only pool.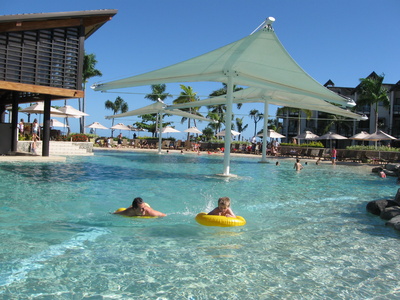 Radisson Pool, Denarau Island Resort, Fiji
Transport around Denarau Island is by Bula Bus, $5 for a day pass in an open bus, $5 for a one way Taxi fare anywhere in Denarau or a free hotel shuttle to take you to and from Port Denarau (that is the local shopping centre) with reasonable priced tourist shops including a Hard Rock Cafe. We had a meal there, it was not that good. The kids got the hotdog which was a bit spicy and we thought not really a kids meal. I usually try the Hard Rock in every city I visit, but there are better food options in Port Denarau and would try those first.
The Radisson, like all the hotels, has kids clubs, where for a fee, your children are entertained all day. The kids club offers some cool Fiji type stuff - crab hunting and racing, making necklaces, dressing up in grass skirts and war paint, torch lighting, and other stuff on the beach - plus less Fijian type stuff like colouring in and watching movies. You can pick your times - so can tailor kids club times to suit your kids' interests.
The locals are very good at looking after children, we even saw restaurant staff take babies off parents so they could finish their meals in peace.Baby sitters are about $4 an hour - so are great value.
On your way to Denarau you might consider stopping at a supermarket in Nadi town for supplies as food and beverages are very expensive in Denarau -including in the Denarau shops outside the resorts. A local Fiji Bitter beer (which is not too bad, we thought it was probably renamed Victorian Bitter from Australia) is about $6.50 in the resorts and $2 at the supermarket. If you want spirits at your hotel, look at a cocktail. The locals make great cocktails with generous pours, and happy hours help you get your money's worth. Food starts at $29 per person for a buffet and the food is Ok, good enough for me to have 3rds.
If going to Denarau I would suggest a package that includes everything, we had airfares, airport transfers, room, internet, 3 meals a day, free use of non-motorised water craft and ask about kids club child care. The meals would have cost us about $75 each a day, not counting drinks.
Everything was good apart from the price of food and drinks, but that is the same at every hotel on Denarau.
We would go back to the Radisson Resort Denarau.
All prices in Fiji dollars.
Reviews / Comments for NewZealandAtoZ reviews; Radisson, Denarau Island Resort, Fiji
No reviews have been written write a review now.

Back to top

---