Fiji
Travel to Fiji (Country Guide)
has the reputation of being a trip of a lifetime. The people are very friendly and happy to look after their travelling tourist. Fiji was given its name after European colonisation and comes from the Tongan name for these 300 islands. Prior to the Europeans arriving the locals called Fiji 'Viti'. Melanesian, Polynesian and some Micronensian influences have shaped Fiji's history over a period of around 3500 years. Fiji has one of the most diverse ethnic mix of any Pacific Island. The peoples include Fijian, Indian, Chinese, European, Australian, New Zealand and other Pacific Islanders. Fiji is a crossroads in the South Pacific due to its location. The Fijian people are very welcoming and with the beautiful lagoons, outer islands and fantastic landscapes this travel destination is a must visit.
Frommer's Fiji, 1st Edition (Frommer's Complete)
Moon Fiji (Moon Handbooks)
The weather in Fiji
Fiji is warm all year round with average temperatures of around 25 degrees Celsius. The dryer cooler Fijian winter extends from April to November, the wetter hotter summer is from December to March.
How to get to Fiji
Nadi is the arrival airport for your travel to Fiji. Suva is the business centre on the southeastern side of the Fijian Island of Viti Levu.
Air Pacific has 11 flights a week to Nadi from Auckland, New Zealand
Air New Zealand fly daily from Auckland and on Sundays from Wellington, New Zealand.
Freedom Air has flights from Christchurch, Wellington, Palmerston North and Hamilton, New Zealand.
How to Enter Fiji
When you travel to Fiji you must have a passport that is valid for three months more than your intended stay in Fiji. Nationals of a few countries require pre-arrival visas (New Zealand passport holders are exempt). A ticket for return or onward travel is required.
Where to stay in Fiji
When you travel to Fiji you will find all levels of accommodation and you will not be without a bed. From budget accommodation to world-class luxury resorts. Visitors to Fiji will be spoilt for choice.

Travelling around the Fijian Islands
Fiji is well serviced by internal airlines. Charter seaplane and helicopter services also operate from Nadi Airport. There are good boats services that ferry travellers between Islands.
Rental operators rent cars, 4wds, scooters and bicycles. If wishing travel around Fiji by driving you must be 21 and hold a full drivers licence. The main islands have good bus services to help you travel around. Air Conditioned coaches move tourists between major Fijian resorts and towns. A good way of travelling around is the open topped bus to get a real feel of Fiji.
What to do in Fiji
After travelling to Fiji and arriving in Nadi take time to travel around the Nadi, Viti Levu and Port Denarau areas. Nadi has many scenic flights, highland tours and driving options. If travelling to Fiji for Golf you will find a paradise with the 18-hole championship Denerau Golf and Racquet Club. You also have the Nadi Airport golf course and Fiji Mocambo nine-hole course. One of the most famous Fijians is Golfer Vijay Singh.
Travel to the outer Fijian Islands. Travel to Castaway, Plantation, Mana or Beachcomber Islands in the Mamanuca group.
The Coral Coast (Sigatoka)
Take an excursion cruising upriver to a traditional Fijian village, and then travel downriver to the famous Sigatoka sand dunes.
Take a Naihehe Sacred Cave Tour.
Travel to the Mamanuca Islands and relax with some snorkelling, sailing and sun. Try Surfing at the famous Cloud Breaker off Tavarua.
Fiji is rated as one of the top 10 world diving locations with reefs, caves, shipwrecks and sea life.
Eating in Fiji
Fiji like all the Islands of the South Pacific has fantastic sea fare. Mix in the food from the wide choice of ethnic eateries and you selection is endless. All budgets are catered form on the Fijian Islands, but one of the most popular eating experiences in the Lovo (meats and seafood wrapped in banana leaves and cooked in an underground oven).
A local speciality is Kokoda (fresh fish marinated in limejuice and served in coconut cream in a half coconut.
Shopping in Fiji
Nadi has many duty free shops. Tailors will make clothes for you overnight and deliver them to your hotel or resort. When buying Fijian handicrafts check around on prices before you buy.
Flag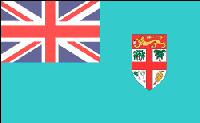 Geography
Fiji consists of 332 islands in the southwest Pacific Ocean about 1,960 mi (3,152 km) from Sydney, Australia. About 110 of these islands are inhabited. The two largest are Viti Levu (4,109 sq mi; 10,642 sq km) and Vanua Levu (2,242 sq mi; 5,807 sq km).
Government
Republic
History
Fiji, which had been inhabited since the second millennium B.C., was explored by the Dutch and the British in the 17th and 18th centuries. In 1874, an offer of cession by the Fijian chiefs was accepted, and Fiji was proclaimed a possession and dependency of the British Crown. In the 1880s large-scale cultivation of sugarcane began. Over the next 40 years, more than 60,000 indentured laborers from India were brought to the island to work the plantations. By 1920, all indentured servitude had ended. Racial conflict between Indians and the indigenous Fijians has been central to the small island's history.
Fiji became independent on Oct. 10, 1970. In Oct. 1987, Brig. Gen. Sitiveni Rabuka staged a coup to prevent an Indian-dominated coalition party from taking power. The military coup caused an exodus of thousands of Fijians of Indian origin who suffered ethnic discrimination at the hands of the government.
A new constitution, which took effect in July 1998, provided for a multiracial cabinet and raised the prospect of a coalition government. The previous constitution had guaranteed dominance to ethnic Fijians. In 1999, Fiji's first ethnic Indian prime minister, Mahendra Chaudhry, took office.
Continuing ethnic tensions, partly fueled by economic problems, plunged Fiji into a national nightmare in 2000. On May 19, a group of armed soldiers entered the Parliament and took three dozen people hostage, including President Chaudhry. George Speight, a part-Fijian businessman, led the insurrection, and demanded that the 1998 constitution be rewritten to allow dominance of ethnic Fijians. The standoff lasted two months. In July 2000, Speight and other coup leaders were taken into custody and charged with treason. In Feb. 2002, Speight was sentenced to death, but his sentence was commuted.
Although the coup was eventually foiled, deposed prime minister Chaudhry and his democratically elected government were not restored to power. Instead, the military and the Great Council of Chiefs, a group of 50 traditional Fijian leaders, appointed an interim government dominated by ethnic Fijians. Elections were held in 2001, but no party achieved a majority. Interim prime minister Laisenia Qarase's Fijian United Party won 31 of 71 seats, and Qarase was sworn in as prime minister in September. His cabinet consisted entirely of ethnic Fijians, but a court ruled in 2002 that ethnic Indians must be included. In July 2003, Fiji's Supreme Court unanimously upheld that decision, declaring Qarase's government unconstitutional. In 2004, political infighting stalled the implementation of a new multi-ethnic cabinet.
Much to Prime Minister Qarase's displeasure, Vice President Ratu Jope Seniloli and four other prominent figures were convicted for their part in the 2000 coup and imprisoned in Aug. 2004.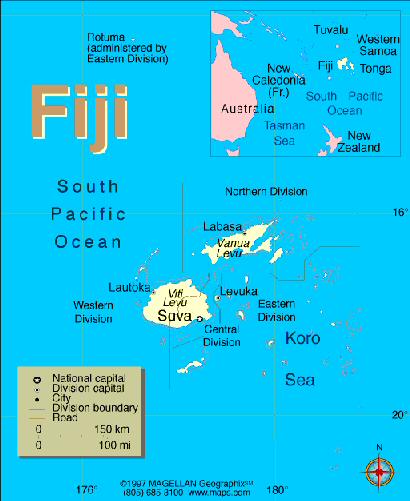 Reviews / Comments for Fiji
No reviews have been written write a review now.

Back to top

---