NewZealandAtoZ reviews; Plantation Island Resort, Malolo Island, Fiji
We stayed at Plantation Island Resort on Malolo Island, Fiji, in June 2009.
Malalo was about a 1 hour boat ride from Port Denarau. I think you can also get there by sea plane, perhaps by helicopter.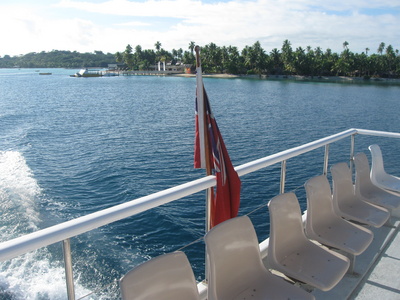 Ferry to Plantation Island, Fiji
The resort itself, we found to be excellent and the staff were really friendly. We went with the family - my wife, me and our 6 and 4 year old kids. The kids loved the kids club - we expected we'd need to convince them to go, but they surprised us and spent more time there than we expected, leaving us with an unexpected amount of free time - time we could spend snorkelling around the coral reef about 50M off the beach, and generally lounging around in hammocks in the shade. Anyway, kids club was a hit. One of the staff - Richie - was a real star - he could run fast, eat fire, beat everyone at limbo and table tennis. The kids loved him.
Every evening they had a different kids activity - frog racing, crab racing, talent quest, limbo etc. Our kids got into all of them.
There were lots of other good things. Kayaks, snorkelling gear, tennis and mini golf, and kids club were all free. Each day there were free fishing boat trips and free snorkelling boat trips out to a coral reef and sand dune out off the island. We tried the snorkelling trip. There was plenty to see.
Plus there were hobby cats and other things you could use (at a cost perhaps, I didn't check). There's also a 9 hole golf course out there and there are golf tours from the resort.
The accomodation was clean and fresh. I think we got an upgrade, because the bure we ended up with was quite flash.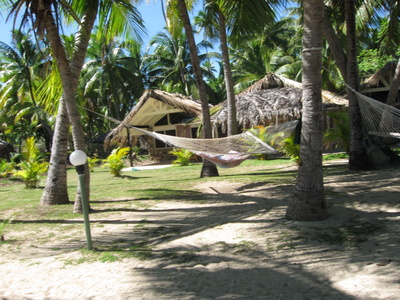 Plantation Island Resort Bure, Fiji
The only down sides were around the food - they had this weird practice that at tea time, kids ate to 6.30 and adults from 6.30, which took a bit of adjusting to. Once the kids got into torch lighting and various other kid things to keep them busy while we had tea, there was no problem, but other parents found it a bit tricky if their kids were too young to go off.
And the food itself was a bit 70s - we got by with the BBQ type option in the buffet, but it was a relief (food-wise) to get back to Denarau.
Overall though, excellent.
Useful fact;
Fiji is in the same World time zone as New Zealand so great for both countries.
Reviews / Comments for NewZealandAtoZ reviews; Plantation Island Resort, Malolo Island, Fiji
No reviews have been written write a review now.

Back to top

---