NewZealandAtoZ reviews; Denarau Golf and Racquets Club
Golf in Fiji was on the agenda and all the hotels on the Denarau Island resort are within walking distance of the Golf course. I carried my clubs and walked the short distance to the Denarau championship course, regular holder of professional golf events in Fiji. I was greeted in the shop by the friendly staff, paid my green fees ($135 which included a cart) brought any tees and balls I needed, then my friends and I set off to the first tee.
The course has lots of water around and a few water carries but not to much trouble until you get to the challenging 18th, which cost me a ball but I still got par (don't hit driver off the tee). The course was in great condition with staff always driving around picking up stray coconuts and in drinks carts. You also have the locals who make a living collecting golf balls out of the waterways and selling them back to you at $1 per ball, cheap for a good quality ball. One of our four lost his ball in the water at the start of the round and a local ended up selling it back to him on one of the finishing holes.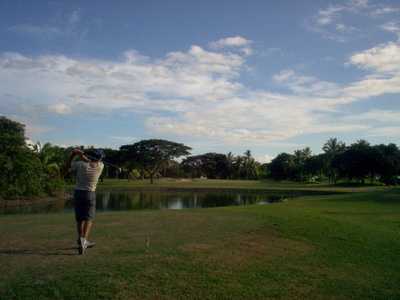 One of the four water carry par 3s at the Denarau Golf Course, Fiji
At one stage we picked up a coconut cracked it open on a rock, drank the milk and ate the coconut meat, an interesting and good healthy on course snack. A couple of holes run along the beach so you get a nice view up and down the coastline.
After the round in warm to hot conditions (about 27 degrees) we had a quiet drink in the bure-style bar overlooking the golf course.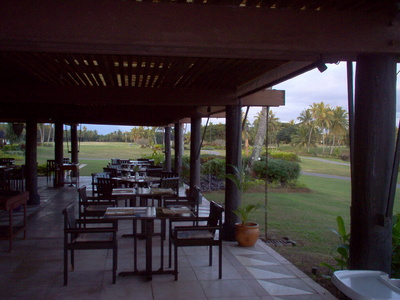 Denarau Golf and Racquets Club Fiji bure-style bar overlooking the golf course.
Anyone who goes to Denarau is welcome to play in any of the clubs calendar events. The management also encourages and looks after local children by providing golf clubs for them to learn and enjoy golf. They would be very appreciative of any golfers who would donate clubs for the children to use.
I would definitely play the Denarau golf course again, but try and organise my trip around one of the many tournaments. I would also hunt out some old golf clubs to give them.
All prices are in Fijian dollars
For more information http://www.denaraugolf.com.fj/ or Denarau Golf events
Useful fact;
Fiji is in the same World time zone as New Zealand, so great for both countries.
Reviews / Comments for NewZealandAtoZ reviews; Denarau Golf and Racquets Club
No reviews have been written write a review now.

Back to top

---