Dairy and Corner Stores
New Zealand towns and cities are made up of suburbs. Most suburbs have there own Dairy. A Dairy is the local "Drugstore or 7-Eleven" They are usually in small blocks of shops that have the local pharmacy (this is where you buy all your health related products and get prescriptions from) and a fish n Chip shop.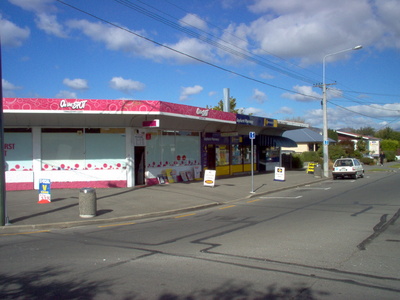 Local Dairy, Pharmacy and Fish and Chip Shop
The Dairy sells anything that will keep your house going, from the local newspaper to toilet paper.
The local Dairies are becoming fewer and fewer as the malls and large supermarkets are built. But they still have a place in New Zealand. Its great buying something not having to park in a huge car park and battle with hundreds of other people for a bottle of milk.
Reviews / Comments for Dairy and Corner Stores
No reviews have been written write a review now.

Back to top

---