Motunau Beach
Near Greta Valley about 1 hour 20 minutes North of Christchurch, on the East coast of the South Island, is Motunau Beach, a popular holiday settlement and camping ground. Surfcasting is popular and a crayfishing industry is based here. Charter boats are available for sea fishing and you may even leave with a Crayfish or two. The beach with its backdrop of sea cliffs is a prized hunting ground for fossils, which occur in abundance, while the Motunau Beach Clifftop Coastal Reserve offers sweeping views of the coastline and offshore island.
There are many wineries within 1/2 an hours drive.
This is one of many New Zealand beach settlements where house prices have jumped up. For a $60,000 house in 2000 you would now pay around $300,000 or more.
It is a great place to get away and relax.
Not far away is the Scargill Golf course, always in great condition and the green fees are cheap at around $10. You will be lucky if there are any more than around 15 people on the course on any week day. Even in the weekends you should have no problems getting a round in.
View from the Coastal Reserve looking South down the East coast towards Christchurch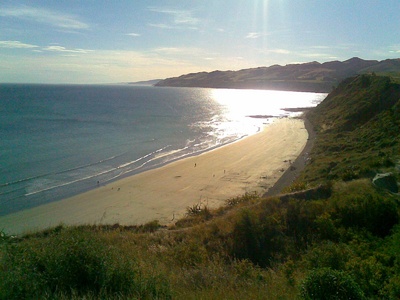 Reviews / Comments for Motunau Beach
No reviews have been written write a review now.

Back to top

---