Eco Friendly Lodges
Being green is becoming more and more popular. New Zealand is world-renowned for taking the lead with top quality eco-friendly lodges, which can be found dotted all around the country.
New Zealand's eco-friendly lodges let the NZ tourist stay in some beautiful areas of NZ. Most offer a high-class style accommodation.
Most eco-friendly lodges are independently owned and operated for that personal attention and well-informed information on the area.
Bookings in NZ are advised from the beginning of November until the end of March.
Kaitake Lodge, New Plymouth:
Located on the edge of Egmont National Park, the Kaitake Lodge was built from cedar-clad and receives all day sun and expansive views of bush and sea, including the Sugar Loaf Islands. The Lodge features passive energy designs and operates on solar, wind and gas and is not connected to New Zealand's electricity network.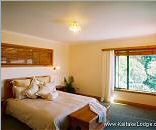 Accommodation & Cost: To ensure privacy and enjoyment, the Kaitake
Lodge has a firm policy of 'single-group bookings' [unless hiring with friends]. This means only one couple has use of the lodge at any one time. There are three rooms available and tariff for the first couple if $220/night [includes a self-cooked breakfast]. To hire the second bedroom takes the prices to $320/night, and if you want to hire all three rooms, it'll set you back $500/night.
Features & Activities: If you're looking for more than just a relaxing place to stay, the lodge also offers Shiatsu massages and other alternative therapies. Guests can choose their menu from an organic menu. Owner, Ross, is proud to operate an independent solar and wind powered electricity supply.
Treetops Lodge & Estate, Rotorua:
Nestled amidst native forests and valleys, Treetops Lodge & Estate offers a truly eco experience, and looks like my idea of heaven. A glimpse at the photo's on their website sends me into a daydream of just how relaxing a night or two at this lodge would be.
The lodge was built with the style derived from New Zealand's pioneering past, and is set amongst 2,500 acres of secluded native forest and game reserve, seven trout streams, four lakes, over 70 kilometres of hiking trails, mountain bike riding, and horse riding.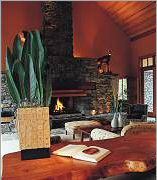 Accommodation & Cost: Prices start at $490 p/p per night for a lodge double/twin during May to August, and range up to $965 p/p per night for a villa double/twin during September to May.
Features & Activities: On-site activities include access to 100kms of hiking / jogging trails, nature walks, unguided trout fishing in the lakes and mountain bike riding. Rotorua is a mecca for activities and exhilarating experiences. From abseiling to waterfall walks, the choice is yours. Recommended by those in the know is a relaxing massage after your day's adventures, followed by a leisurely soak in the in-spa suite.
Cavalli Beach House Retreat, Kaeo:
Cavalli Beach House Retreat is located 45 minutes from Kerikeri and looks the picture of utter luxury. Its design is so eco-friendly; it has been designed to "sit" in the existing landscape. All soaps, detergents and cleaning products are biodegradable and refuse is all recycled. Seasonal fresh food is grown on-site in a typically organic way. An advanced solar water heating system takes provides guests with copious amounts of inexpensive hot water.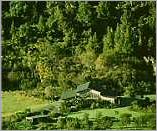 Accommodation & Cost: There are three rooms, including the decadent apartment-like ocean suite at $575/night, which has boasts a separate lounge, TV, dining table and library. The two standard rooms and are priced at $475 each a night. The standard rooms and ocean suite offer king-size beds, large en-suites and private decks with the most breathtaking views overlooking Cavalli Beach. Each room has a kitchenette with a complimentary bottle of bubbly and a fridge full of light snacks. Prices include a cooked breakfast, all non-alcoholic beverages and use of kayaks, dinghy, snorkelling gear and the hillside jacuzzi
Vida Eco Retreat, Whitianga:
Set in 28ha of native bush and ultimate tranquillity, Vida Eco Retreat offers a variety of holistic treatments including massage, reiki facial kinetic and hypnotherapy, as well as a sauna, relaxation and music room, meditation area and art room. The retreat is the perfect retreat for those who want to be at one with nature, and completely relax in a setting heavy on peace, seclusion and all things natural. Vida Eco Retreat is hydro and solar powered, uses organic fruit and vegetables and has organic beers, wines and spirits available so you can indulge in a 100% eco-friendly experience.
Accommodation & Costs:
Vida is an ultimate retreat for up to six people offering three spacious suites, each for double, twin or single occupancy. Each suite offers either Californian king-size beds or king-single beds, and you'll be sleeping amongst completely natural cotton linen bedding, and relaxing in slippers and robes. As you sit and soak up the views of the native bush, you can indulge in healthy treats and organic juices. All their beauty products are animal, cruelty and attitude free. The suites cost $240 per room a night twin share or $180 single a night and include a healthy organic breakfast, and use of all facilities.

Reviews / Comments for Eco Friendly Lodges
No reviews have been written write a review now.

Back to top

---