Samoa
Samoa is naturally beautiful with waterfalls, rain forests, mountains, volcanos and miles of pristine beaches. Samoa is a great place to enjoy some South Pacific peace and quiet as discovered by famous 18th century writers Robert Louis Stevenson and Rupert Brooke.
Samoa is made up of two main islands Upolu and Savaii these two Samoan islands make up around 96% of the total landmass of Samoa.
Samoa has eight smaller islands. Apia is the capital of Samoa and is on the island of Upolu along with the International Airport of Faleolo.
Samoa offers relaxing simple pleasures and friendly people.
The weather in Samoa
Samoa is close to the equator so there is not major seasonal change in temperature. In January temperatures are around 27 degrees Celsius and in June around 26 degrees Celsius. The rainy season is November to March and the dryer season is April to October. During May to November the weather is slightly cooler because of the South East trade winds.
How to get to Samoa
Polynesian Airlines (Samoa's national airline) has six flights a week from Auckland, New Zealand and three each from Wellington and Christchurch, New Zealand.
There are regular domestic services from Fagalii Airport near Apia, to Maota and Asau on the island of Savaii.
Air New Zealand has four flights a week from Auckland, Tuesday via Tonga, Thursday, Friday and Saturday.
Entry into Samoa
Travellers to Samoa do not require an entry visa for stays of up to 30 days. You must have an onward or return ticket and a valid passport for six months or more.
Where to stay in Samoa
Accommodation is of all price range to suit all budgets including backpackers, motels, hotels and resort hotels.
Aggie Grey's hotel became famous for Rand R for American GI's during World War 2. Aggie is considered the mother of Samoan tourism.
Travelling around Samoa
Local buses run regularly around the Samoan islands. Being relaxed there are no timetables but this adds to the budget way of seeing Samoa.
You also have the option of air-conditioned buses. Rental cars are available from the Samoan airports and Apia. A ferry operates daily between Upolu and Savaii.
What to do on the Samoan Islands
Visit Savaii and stay in a fale (open sided house) on the beach, this can also be done on Aleipata. Take an eco-tour on Upolu or Savaii. Climb Mount Vaea early in the morning (45 minutes each way) for great sunrises and a visit to Robert Louis Stevenson's grave.
Visit Villa Vailama, the restored home of Robert Louis Stevenson. Walk around the markets. Grab a margarita at the top bar at Aggie Greys. Walk or Run along the seawall in the morning. All major hotels and resorts have cultural nights, usually on different nights. Check out Samoa' s largest and most beautiful fale at the National University of Samoa. Try horseback riding along the white sand beaches or canoe through the mangroves.
You can also enjoy some great surfing and windsurfing.
What to eat in Samoa
Samoa has a good range of restaurants, cafes and snack bars offering all sorts of ethnic food. As with the rest of the South Pacific Islands the food is fantastic.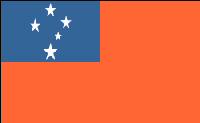 Geography
Samoa, formerly Western Samoa, is in the South Pacific Ocean about 2,200 mi (3,540 km) south of Hawaii. The larger islands in the Samoan chain, Upolu and Savai'i, are mountainous and of volcanic origin. There is little level land except in the coastal areas, where most cultivation takes place.

Government
Constitutional monarchy under a native chief.

History
Polynesians, possibly from Tonga, first settled in the Samoan islands about 1000 B.C. Samoa was explored by Dutch and French traders in the 18th century. Toward the end of the 19th century, conflicting interests of the U.S., Britain, and Germany resulted in an 1899 treaty that recognized the paramount interests of the U.S. in those islands west of 171░W (American Samoa) and Germany's interests in the other islands (Western Samoa).
New Zealand seized Western Samoa from Germany in 1914, and in 1946 it became a UN trust territory administered by New Zealand. A resistance movement to both German and New Zealand rule, known as the Mau ('strongly held view') movement, helped to edge the islands toward independence on Jan. 1, 1962. A constitutional monarchy, Samoa has a legislative assembly whose members are from the matai, or titled class.
Barraged regularly by cyclones that have wreaked havoc on the country's primarily agrarian economy, Samoa has begun stepping up its tourism industryŚnot such a difficult undertaking in this archetypal South Pacific paradise.
A referendum in 1990 gave most women the right to vote for the first time. In 1997, a new constitutional amendment changed the country's name to Samoa. In 2002, the prime minister of New Zealand apologized to Samoa for the injustices that occurred under New Zealand rule.
$name = "Samoa"; $type = "0";
Reviews / Comments for Samoa
No reviews have been written write a review now.

Back to top

---