Golf Resorts Exclusive
Wairakei International Golf Course
State Highway One, Taupo
Wairakei International is considered to be New Zealand's best all-round golf course. The golf course is in fantastic condition all year round making enjoyable play for every level of golfer. It is beautifully designed and in autumn the course sheds an array of colours over a breathtaking landscape. It was established in 1968, and then in 1972 it was named by Golf World as one of the top fifty courses in the world outside of the United States. It is open to the public 364 days of the year.
Golf Resort facilities;
18 hole championship golf course
20 bay, covered driving range
Fully stocked golf shop
3 on course professional golf coaches
Full fleet of golf carts
Hire clubs, shoes and trundlers
Fully licensed bar
Clubhouse
Golf Schools
Specialists in corporate golf days
As well as at the Wairakei Resort other accommodation is nearby at the world class Huka Falls Lodge.
Par: 72 Blue: 6429m White: 5801m Red: 5310m.
Phone: +64 7 374 8152
Fax: +64 7 374 8289
Postal Address: Po Box 377, Taupo 2730
Email: wigc@globe.net.nz
Web: www.wairakeigolfcourse.co.nz
---
Lakes Resort Golf & Country Club
100 Augusta Drive, Pauanui
Lakes Resort Golf & Country Club is rated as one of the best golf courses in the country. The golf course is only a short walk to the popular beach of Pauanui, and is only minutes to Auckland City. Natural wetlands inhabit the landscape assisted by the magnificent Coromandel scenery.

The chance to live and breathe golf is a reality with the addition of first class residential accommodation, lifestyle homes, villas and terrace apartments.
Entertainment includes: 18-hole international golf course, recreational facilities, swimming pools, tennis courts, and health spa.
Par: 71
Black: 6171m
Blue: 5627m
White: 5412m
Yellow: 4839m.
Phone: +64 7 864 9903
Free phone: +64 800 184 653
Fax: +64 7 864 9468
Postal: P O Box 9 Pauanui
Email: darren@lakesresort.co.nz
Website: www.lakesresort.com
---
Gulf Harbour Country Club
180 Gulf Harbour Drive, Gulf Harbour, Whangaparaoa
The Whangaparaoa peninsula, one hour north of Auckland city, holds the site of one of New Zealand's premier golf resorts, Gulf Harbour.
Gulf Harbour, established in 1997, boasts the mantle of having hosted the first European tour event held in New Zealand and was also the venue for the 1998 World Cup of golf. The golf course meanders around the beautiful landscape of the peninsula and over-looks the dramatic coastline scenery. The course has a variety of length and design of golf holes making for some enjoyable and challenging play for all golfers.
Par: 72 Black: 6483m Blue: 5918m White: 5507m Ladies: 5290m.
Phone: +64 9 424 0971
Fax: +64 9 424 4739
Postal: PO Box 527 Whangaparaoa
Email: golf@gulfharbourcountryclub.co.nz
---
Cape Kidnappers Station Ltd
448 Clifton Road, Te Awanga
Cape Kidnappers is on the Eastern coastline of the North Island and was first discovered and named by explorer Captain James Cook in 1770.
The landscape is very appealing and to have a golf course with a well planned layout placed on top of it makes for a golfers dream escape. The land tilts towards the sea as a series of ridges jutting out towards the edge of the cliffs 500 ft above the Pacific Ocean.
Par: 71
Blue: 6525m
White: 6114m
Green: 5708m
Red: 5310m
Yellow:4739m.
Phone: +64 6 875 1900
Fax: +64 6 875 1901
Postal: PO Box 8850 Havelock North
Email: proshop@capekidnappers.com
Website: www.capekidnappers.com
---
Formosa Golf Resort
110 Jack Lachlan Drive, Beachlands, Auckland
Formosa Golf Resort is situated on the beautiful Pohutukawa Coast and only 45 minutes from Central Auckland. The course was designed by Golfing Legend Sir Bob Charles and was modelled on the Augusta National Golf Course, home of the U.S. Masters. Formosa Golf Resort opened in January, 1998 and was the venue for the 1998 New Zealand Golf Open.
Formosa Golf Resort Covers an area of 440 acres. With its cliff top and coastal fairways, along with hundreds of Pohutukawa trees and Palms Formosa is truly Picturesque.
Par: 72
Black: 6633m
Blue: 6132 m
White: 5704m
Yellow: 5162m.
Phone: +64 9 536 4717
Fax: +64 9 536 5896
Postal: PO Box 80 Beachlands Auckland
Email: marilyn@formosa.co.nz
Website: www.formosa.co.nz
---
Pegasus Golf and Sports Club
Pegasus Golf Course is located within the town of Pegasus, on the edge of Pegasus Bay and just 25 kilometres north of Christchurch.
The central feature of the Mapleham development is the 18-hole championship-length Pegasus Golf Course, master-planned by Francis Whitaker of Mason & Wales, and designed by leading landscape architects, Boffa Miskell, in collaboration with Kristine Kerr of Kura Golf Course Design. Pegasus Golf Course has been sculpted along the lines of traditional inland courses, and has been carefully designed to preserve the area's existing topography. Enriched by mature trees, swathes of native grasses, wetland areas, waterways and 11 feature lakes, Pegasus Golf Course sits comfortably in its pastoral environment.
The par 72 Pegasus Golf Course provides four sets of tees at each hole to offer challenge, enjoyment and a memorable playing experience for all levels of golfers. The course plays approximately 6300m from the championship tees to 5000m from the forward tees. Holes are varied in length and direction, and the playing options require an array of shots. Generous fairways encourage unconstrained and swift play. The course presents bunkers, lakes, and areas of natural wetland at varying distances from the tee. Alternate lines of play, and greens of varying size and undulation provide opportunities to consider strategy as well as test skill and accuracy – with receptive contouring rewarding the successfully placed shot.
Par: 72
Front: 5000m
White: 6300m
Phone +64 3 920 3300
Fax: +64 3 920 3302
Website: www.pegasusgolfclub.co.nz

Terrace Downs High Country Resort
Coleridge Road,, Rakaia Gorge, Rakaia
Breathtaking is only one word to describe Terrace Downs golf course. The golf course has two levels of beautifully manicured greens and fairways and has 70 bunker and 8 lakes to hold true to its difficulty. Not only is the golf course fantastic to play but it is complimented by the surrounding views of the Mount Hutt Ski field which is situated on the opposite side of the clear, salmon filled Rakaia Gorge river.
With 6500 metres of golf to cover and long walks between green and tee, one of the many golf carts supplied is strongly recommended.
At the completion of your golf you can enjoy the comforts in the recently built $3 million clubhouse. A spa over looking the golf course and sauna are available with the opportunity of a massage also on hand.
This experience is nothing short of a 'Breathe of fresh air'.
Par: 72
Coal: 6439m
Blue: 6092m
White: 5643m
Ladies: 5303m.
Phone: +64 3 318 6943
Fax+64 3 318 6942:
Postal: Coleridge Road, Rakaia Gorge RD 2 Darfield
Email: info@terracedowns.co.nz
Website: www.terracedowns.co.nz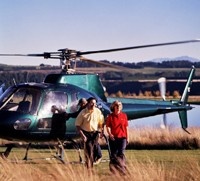 ---
Clearwater Resort Christchurch
Clearwater Avenue, Christchurch Airport, Christchurch
Clearwater Resort is a stunning new waterfront residential, golf, and resort community, just a 15-minute drive from the beautiful city of Christchurch
The course was designed by John Darby, in consultation with Sir Bob Charles. With a choice of five tee positions it can be both challenging yet enjoyable for players of all levels.
Playable year-round, the course meanders around a succession of spring fed lakes and trout-filled streams, with uninterrupted views of the spectacular Southern Alps.
Par: 72
Black: 6526m
Blue: 6138m
White: 5694m
Yellow: 5155m
Red: 4604m.
Freephone: +64 800 555 075
Phone: +64 3 360 1000
Fax: +64 3 360 1000
Postal: PO Box 14 106 Christchurch Airport Christchurch New Zealand
Email: clearwater@outriggernewzealand.com
Website: www.outrigger.com
---
Kauri Cliffs Golf Course
Matauri Bay Road, Matauri Bay
Set on 6,000 acres of rolling coastal farmland near Matauri Bay, Northland. Kauri Cliffs offers five sets of tees to challenge every skill level. Fifteen holes view the Pacific Ocean, six of which are played alongside cliffs. The beautiful inland holes wind through marsh, forest and farmland.
The golf complex includes a world class practice range, putting and chipping greens.
Par: 72
Tiger: 6510m
White: 5930m
Green: 5560m
Red: 5289m
Yellow:4581m
Reservations: (09) 407 0060
Phone: +64 9 407 0010
Fax: +64 9 407 0061
Postal: Box 800 Kerikeri
Email: info@kauricliffs.com
Website: www.kauricliffs.com
---
Millbrook Golf Resort
Malaghans Road, Arrowtown, Queenstown
Millbrook Resort is situated amidst spectacular Otago mountain scenery. Bob Charles the golf course designer has incorporated many elevated tee blocks which are complimented by the breath-taking sight of the Remarkables mountain range. The golf course has a length of 6142 meters and is a par 72. It offers generous landing areas, though assisted by strategically placed bunkers and trees; it makes for easy golf for all levels.
Par: 72
Black: 6420
Blue: 6068m
White: 5618m
Ladies: 4883m.
Phone +64 3 441-7000
Fax +64 3 441-7007
Website: www.millbrook.co.nz
E-Mail: web@millbrook.co.nz
Millbrook resort - Queenstown, New Zealand
---
Carrington Golf Resort
Karikari Peninsula, Northland
Carrington Golf Resort was established in 2001 and promises to be one of New Zealand's finest golf resorts. A special feature of Carrington is the longest par 5 in New Zealand which measures at 605m.
Par: 72
Black: 6605
Blue: 6033m
White: 5715m
Ladies: 5095m
Phone +64 9 408-7222
Fax: +64 9 408 7414
Website: www.carringtonclub.co.nz
E-Mail: info@carrington.co.nz
---
Christchurch Golf Club
Shirley, Christchurch, Canterbury
The Christchurch Golf Club was founded in 1873, making it the second oldest Club in New Zealand. Recent improvements include installation of a fully computerized irrigation system, a new professional shop built and a refurbishment of the course carried out under the supervision of the renowned course architect, Peter Thomson.
The course plays medium long across an undulating surface featuring several elevated greens and tee boxes. Usually rated among the best New Zealand courses, Shirley golf course is known for pot bunkers, little water, lots of bumps and for its true fast greens all year round. It is a mature course, calling for both length and accuracy.
Par: 72
Blue: 6275m
White: 6006m
Yellow: 5448m.
Phone +64 3 3852-738
Fax: +64 3 385-4892
Website: www.christchurchgolf.co.nz
E-Mail: golfshop@clear.net.nz
Reviews / Comments for Golf Resorts Exclusive
No reviews have been written write a review now.

Back to top

---