My Tilling LTD - Tilers Auckland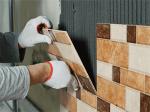 My Tiling Ltd has the reputation of delivering customised tile projects for both residential and commercial sites. Add beautiful tiles to your house or office with My Tiling if you live in Auckland, as My Tiling provides high-quality tiling services in the region. You will surely witness the difference after the tiles' installation. Be it your bathroom or bedroom; My Tiling can change the entire look by amplifying its alluring look and aesthetic appeal. If you want to book tiling services online, you need to visit the My Tiling website or give us a call today. Get 100% satisfaction.
---
Phone Contact:
021 664 718



Email:
mytiling [at] hotmail [dot]
com

Address:
10 Halcombe place
Green Bay
Auckland

0604
Reviews / Comments for My Tilling LTD - Tilers Auckland
No reviews have been written write a review now.

Back to top

---