New Zealand Icons
In this area of newzealandatoz.com we will put together New Zealand symbols that we think are icons of NZ. Our definition of an icon is something that is famous in New Zealand and should be known in the rest of the world. Some of these items you would know others you may not (but should), but if you mention any of these things to a New Zealander they will know what you are talking about, from L&P to the Black Singlet.
Kiwi Fruit
Buzzy Bee
Black Singlet
Bungy Jumping
Jet Boat
Edmonds Cookbook
No 8 Fence Wire
Paua Shell
Pavlova
L&P
Footrot Flats
The Kiwi Fruit

By the mid 1890s, Edward Turner had opened a wholesale fruit business, that in 1920 became Turners and Growers, one of Edward's sons was responsible for exports of New Zealand fruits to London in 1946. In 1959 the name Kiwi fruit was used to replace the name Chinese Gooseberry. This resulted in exports to America, and the Kiwi Fruit becoming World Famous!

The Silver fern

The Silver fern has been the countries sporting emblem since 1888. The fern leaves have been used to distinguished New Zealand's Armed Services in both world wars.
The leaf from a New Zealand fern species known as Ponga.
The distinctive leaf has a dark-green colour on the upper side, and silver underneath.
The silver fern symbol is widely used to represent New Zealand as a country.
A silver fern emblem is often displayed on the uniforms of New Zealand's
national sports representatives most notably the "All Blacks" rugby team.

Buzzy Bee


A pull-along, wooden toy first introduced to New Zealand in the 1940's.
It features bright-yellow, spinning "paddles" for wings, and springy antennae.


Black Singlet


A casual piece of clothing worn by stereotypical, working-class
New Zealanders its roots stemming from the farming community.
Black is a national colour of New Zealand. The black singlet is often
matched with a pair of black gumboots a combination made
famous in the 1970's by the comic character, Fred Dagg.


Bungy Jumping
Bungy jumping is an adventure sport that captures the essence of New Zealand outdoor life. In this case it's off a bridge or similar platform structure from 35 to 134 metres high. The bungy operator's crew secure a strong latex rubber cord either to a full body harness or around the jumper's ankles. The jumper hobbles to the edge of the platform, takes a deep breath and swan dives into space, free falling until the cord is fully extended. If the jump is over water there is usually a 'splash-down' or 'water touch' option and the jumper is retrieved by boat. Over land, the jumper is hoisted back up to the platform.
The history of bungy jumping can be traced to a manhood ritual in Vanuatu where young men throw themselves off towers with springy vines tied to their ankles. The Oxford University Dangerous Sports Club experimented with elastic cords in the 1970's, and a video of this inspired Kiwis, AJ. Hackett and Henry Van Asch to create the world's first commercial bungy site in Queenstown. A rigorous safety code of practice is followed in New Zealand so bungy jumping is a relatively safe adventure sport here.
Queenstown is now a mecca for bungy jumpers with 5 sites. A number of other locations throughout New Zealand have successful bungy operations. Jump prices range from $80 to $200, which usually includes a T-shirt and Certificate. Videos and action photos are an optional extra, usually costing from $30 to $50.
So enjoy your New Zealand holiday and when you spot a bungy site - go for it. It's the greatest possible ground rush, and an essential part of the Kiwi outdoor adventure experience.
Free falling is a whole new dimension in space travel. Don't miss it!


Jet Boat
The advent of the jetboat has given thousands of people the opportunity to explore the waterways and scenic beauty of New Zealand previously unavailable by other modes of transport.
New Zealand will give you the ultimate jet boating experience. The scenery will blow you away, along with the skill required to navigate the jet boat around the uniquely uncompromising rivers of NZ, with deep waters, huge boulders and towering rock walls. Spins, speed and highly skilled driving combine to make your New Zealand jet boat ride a memorable ride.
History of Jet Boating
The shallow braided streams of the Canterbury's shingle rivers provided Bill Hamilton with a challenge. This inventive and adventurous sportsman - engineer responded by advancing the Archimedes creation of a water screw in a tube, refining it in early stages to become a powerful locomotion force, which unlike a propeller, was contained within the boat and enabled high speed progress over the shallowest waters.
Since about 1953, first a trickle of admirers, then a flood of enthusiasts became equipped with Hamilton jets from the Christchurch factory. By 1957 boats were to be found throughout New Zealand, adventuring far into the rougher reaches of rivers and enjoying the remarkable and unique properties of the new water jet propulsion. The boats were almost all of wooden construction, which proved of limited value when in inevitable collision with rocks and the watercourse.
The fortunate appearance of fibreglass [circa 1958] pioneered more resilient hulls which could be mass produced hugely advancing the greatly expanding ownership, and preparing for the ultimate building by the 1970's of metal hulls intended to be a match for the solid encounters in the waterways.
An Association of owners of jetboats formed the New Zealand Jet Boat Association in 1962 with a foundation membership of 58 owners. The number has increased to about 2,000 at this time.
Similar Associations of jetboaters have formed in many countries around the world to address the many varieties of jet propelled vessels, wet bikes, jet-skis, pleasure craft, racing and marathon boats. The remarkable maneuverability of jet propulsion has attracted fishing vessels and high speed ferries, and is now universally accepted as propulsion in large vessels domestic and military.
Bill Hamiltons's remarkable contribution to marine propulsion has seen the jet universally employed and exploited by many nations, and in craft of many types and size. His achievements in engineering and his valuable services to manufacturing were recognised in June 1974 by his knighthood in that year's Queens Birthday honours.
Sir William Hamilton, Patron of the New Zealand Jet Boat Association, died in March 1978. Lady Hamilton accepted the invitation to continue patronage, and on her death in 1986 their son Jon, a foundation member took the roll to this present day.
Edmonds Cookbook Sure to Sell
More copies of this book, published by the makers of Edmonds 'Sure to Rise' Baking Powder, have been sold than any other book in New Zealand. Few New Zealand children would leave home without buying or borrowing their mother's copy of this kiwi culinary bible.
No 8 Wire
Kiwis are famous for their ingenuity and self-sufficiency. It is said that Kiwis can create amazing things all they need is 'a piece of Number 8 wire'. No 8 wire is a certain gauge of wire that was incredibly popular for use as fencing wire around New Zealand's many farms. Ironically, until 1963, it was imported from other countries. Because No. 8 wire was widely available, it was used for a variety of tasks, and it has become a symbol of kiwi adaptability.
Paua Shell
Paua (pronounced par-wah) is a close relative of abalone and comes in a beautiful shell. Maori used the shiny shell for eyes in carvings of various creatures. Whole paua shells are used for ashtrays and other containers, and pieces of paua shell are used for making jewellery, butterflies, coasters, 21st birthday keys and a variety of other objects and souvenirs.
Pavlova is New Zealand's national dessert.
For nearly eighty years it has topped off the traditional fare of gravy-coated roast lamb, fresh peas, kumara and roast potato. It has also been a staple of wedding breakfasts, family gatherings, and all kinds of social functions. Pavlova is like a meringue cake, but with a light soft centre and crisp golden crust that literally melt in the mouth. Topped off with fresh whipped cream and selected fruits.
Lemon and Paeroa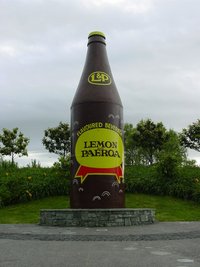 The Giant L & P bottle in Paeroa

Lemon & Paeroa, also known as L&P, is a soft drink manufactured in New Zealand. Traditionally made by combining lemon juice with sparkling water from the town of Paeroa, it is now manufactured by Coca-Cola.
Advertised in recent years with the byline, "World Famous in New Zealand", L&P can be found only in New Zealand and in New Zealand Natural Ice Cream stores across Australia. The byline has become a popular New Zealand saying meaning very well known locally, but not receiving the recognition it deserves overseas.
New from Coca-Cola Amatil in 2005 is a sugar-free version of L&P, branded "Sweet As L&P".

Footrot Flats
Footrot Flats was a comic strip written by New Zealand cartoonist Murray Ball. It ran from 1975 until 1999 in newspapers around the world, and resulted in a series of 27 books (collecting the newspaper strips, with additional material), a stage musical, and an animated feature film called Footrot Flats: the Dog's Tale.
The cartoon was based around the life of Wal Footrot's sheep dog, "Dog", on their farm Footrot Flats (hence the title), and the other characters, human and animal, that came into their lives. Dog's thoughts are voiced in thought bubbles, though he is clearly "just a dog" rather than the anthromorphised creatures sometimes found in other comics or animation. The humour was based around the foibles of the characters, which many, particularly farmers themselves, found easy to recognise around them. There was much "humour in adversity", making fun of the daily struggle that permeates farming life.
Reviews / Comments for Icons
Rating Averages
Back to top

---