Horse Racing
Racing is a long-established sport in New Zealand, stretching back to colonial times.
It was always regarded as one of the three things a typical Kiwi man should be interested, Rugby, Racing and Beer.
The New Zealand racing industry is a major contributor to the New Zealand economy as well as local communities across New Zealand. Racing generates more than $1.4 billion in economic activity each year and creates the equivalent of 18,300 full-time jobs.
More than 40,000 people derive their livelihoods from the New Zealand racing industry
In the past year, more than one million people attended race meetings across New Zealand spending in excess of $55 million on wagering, food, beverages, transport and accommodation.
There are 69 thoroughbred and 51 harness clubs licensed in New Zealand. Racecourses are situated in 59 locations throughout New Zealand.
The bloodstock industry is important to New Zealand, with the export sale of horses – mainly to Australia and Asia – generating more than $120 million a year.
A major source of funding for the racing industry is returns from betting on racing and sports, which is conducted by the New Zealand TAB, the retail arm of the New Zealand Racing Board.
In New Zealand the major races include the Auckland Cup and the New Zealand Cup as well as the Noel J Taylor Memorial Mile and the New Zealand Messenger Championship. There are also the New Zealand Derby and the Great Northern Derby for three year olds
Harness Racing
Harness racing is a form of horse-racing in which the horses race in a specified gait. They usually pull two-wheeled carts called sulkies, although races to saddle (trot monté in French) are still occasionally conducted, especially in Europe.
Races can be conducted in two differing gaits; trotting and pacing. The difference is that a trotter moves its legs forward in diagonal pairs, right front and left hind, then left front and right hind striking the ground simutaneously, whereas a pacer moves its legs laterally, right front and right hind together, then left front and left hind
The harness sport of trotting and pacing is more popular in New Zealand than anywhere else in the world, with the possible exception of America.
New Zealand racing is quite similar to that of Australia. Many horses are able to easily "cross the Tasman" (the Tasman is the sea which seperates NZ and Australia) and compete as well on either side of the sea that separates Australia and New Zealand.
In both New Zealand and Australia the same system of an 'open lane' operates, although in Australia it is called a 'sprint lane' and in New Zealand a 'passing lane'. These lanes do not operate on all tracks and have been a point of argument between many industry participants.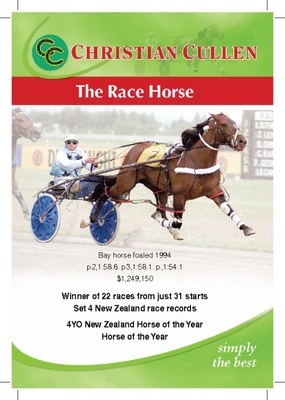 One of New Zealands top Harness Racing Horses Christian Cullen
Reviews / Comments for Horse Racing
No reviews have been written write a review now.

Back to top

---