Scuba Diving
New Zealand's coastal waters offer some of the best underwater diving in the world.New Zealand has few coral reefs compared with tropical waters, but does have some exceptional diving sites.
New Zealand's deeply indented coastline is actually longer than that of the United States. Anywhere in NZ is more than two hours drive from the sea. The ocean becomes accessible to all who wish to experience New Zealand's undersea world.
Scuba diving has a huge following in New Zealand. You will find dive shops and associated underwater clubs in most NZ cities and coastal resorts. Charter boats regularly head out to offshore islands and beautiful reefs. The operators provide all the equipment you need. Bring your open water diving certificate with you to be eligible for charter trips. If you want to become a qualified diver you can join a dive shop, training course for around $400. There are plenty of dive operators that will get you underwater, and PADI courses are available.
Dive locations abound in the North Island but the ultimate dive experience is the Poor Knights Islands, rated by Jacques Cousteau as one of the top ten dive sites in the world. These islands, off Tutukaka on the edge of the continental shelf, feature 75-metre drop off walls, sea caves and soaring arches festooned with colourful sea life. Northland has the superb diving wrecks of the Greenpeace ship Rainbow Warrior, and the frigates Tui and Waikato. Just north of Auckland is the renowned Goat Island Marine Reserve with abundant fish life and the perfect habitat for a first exploratory dive in New Zealand.
Diving the Poor Knights, New Zealand
South Island dive locations are equally diverse and interesting but the conditions are somewhat cooler. Notable sites are the Marlborough Sounds, Kaikoura, Stewart Island and Fiordland. In Milford and Doubtful sound you can see remarkably prolific growths of black and red coral in relatively shallow water.
Diving safety in New Zealand.
Experiencing the underwater environment is fun, but there are a few safety tips, which make it safer for everyone:
Learn to dive from a professional instructor, and if you haven't dived for a while, take a refresher course.
Never dive alone. Always dive with a buddy.
Check and service your equipment regularly
Always use a dive flag.
Stay warm in and out of the water, drink plenty of water
Avoid flying for at least 24 hours after your last dive (to avoid decompression sickness)
Avoid driving from sea level to altitude (above 150m) immediately after a dive.
Never drop boat anchors onto a reef
Avoid touching living marine organisms with your body and equipment.
Do not take or collect souvenirs while diving or snorkelling
Take care in underwater caves, archways and ledges (these can be very dangerous during heavy serges)
Secure gauges and octopus regulator so they're not dangling (they can damage reefs and become entangled in kelp)
Take away all your rubbish
While most divers return from the deep without any problems, a small percentage has accidents. Recognising an emergency situation early on is vital and gives a troubled diver their best chance.
Diver Emergency Service
09 445 8454 Toll Free
Underwater Training Programmes
Mini Dippers is a snorkelling programme designed to teach children 8 years and over. The key objectives of the programme are to teach respect for the water, to develop water confidence, and good diving habits.
Diving in New Zealand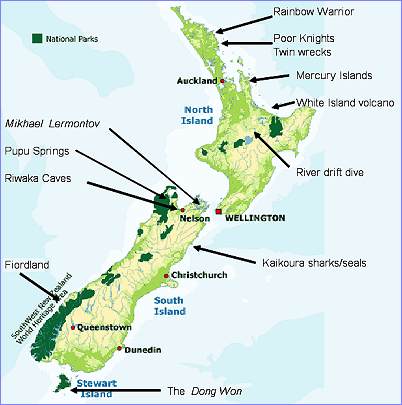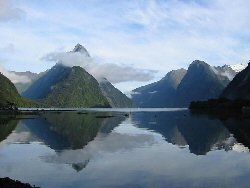 Do you prefer adrenaline charged outdoor activities in the sky, on land, on the water and under water? In New Zealand you will be able to do it in beautiful scenic surroundings spiced with rare seismic beauty, glacial mountains, fast-flowing rivers, deep, clear lakes, hissing geysers and boiling mud.

Sub-tropical reefs, clear water springs and wrecks are the spectacular foundation on hundreds of dive sites along the often indented 15,000km (9320 miles) of coastline and in numerous lakes and rivers, many of which are of world class standard.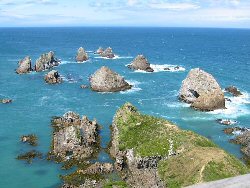 New Zealand is truly a diver's paradise boosting coastal waters teeming with colourful, fascinating sea life and clear waters that make for excellent diving. Many of New Zealand's prime diving spots are just offshore, offering easy access. The quality of marine life is extremely diverse - many invertebrates, especially nudibranches and a variety of fish, including tuna, marlin, snapper, trevally, kahawai and shark. Marine mammals like dolphins, seals and whales attract nature-lovers from around the world.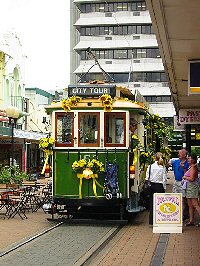 New Zealand lies exactly halfway between the equator and the South Pole - indeed lat. 45 deg S. passes through Central Otago.
The water and weather are both, therefore, temperate, benign even. Below, there's a crazy mixed-up muddled-up marine life world where coral reef crinoids exist with forest of kelp, volcanic rock formations are covered with hard corals and seafans. The fish themselves are totally different to any other Pacific area. Coastal waters teem with colourful, fascinating sea life and the usually clear waters make for excellent viewing, especially in the prime months from February to June.
Many of New Zealand's prime diving spots are just offshore, offering easy access. One of the best spots is the crystal-clear waters of the Poor Knights Islands Marine Reserve, whose amazing range of fish, including many tropical species, was considered by the late Jacques Cousteau to be one of the world's top ten diving locations

To exploit all types of diving in New Zealand one must be prepared to be flexible. Time and tide are the main factors in deciding where to dive at what time - when all details fall into place, the underwater bio-diversity is amazing.

CONDITIONS
The North Island and South Island have two distinct patterns of rainfall. In the South Island, the Southern Alps act as a barrier for the moisture-laden winds from the Tasman Sea creating a wet climate to the west of the mountains and a dry climate to the east. The North Island's rainfall is more evenly distributed without a comparable geological feature such as the Alps.

Temperatures are a few degrees cooler in the South Island, and both islands receive snow in winter season from June through August. The warm season is from November through April. It is important to remember that New Zealand's climate is maritime, rather than continental and that the weather therefore can change rapidly.
Water temperatures vary from 14-22deg. C, lower in the far south; locals recommend wetsuits. Summer usually provides the calmest weather; diving conditions are at their best Jan.-April. Some years a plankton bloom occurs in spring and early summer, clouding the coastal waters. No underwater flora or fauna are dangerous to divers apart from sharks - and they're rarely seen.
Visibility varies from 3 to 30m (10 - 98ft.) depending on swell and tidal currents. Sites close to rainwater runoffs can have very low visibility after heavy rains
Most dive operators open all year, but the diving is best from December to May, both with regards to weather conditions and visibility.
Equipment for rent is generally available from the dive centres and liveaboards.
Liveaboards usually schedule a week of diving combined with leisure trips and excursions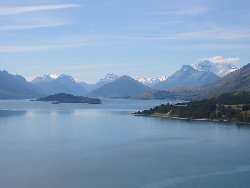 The country abounds with sub-tropical reefs, wrecks, clear water springs and alpine fiords. If you want a rich variety of diving experiences its time you visited New Zealand.

Here's a glimpse of selected New Zealand dive sites...


The Poor Knights - undoubtedly the jewel in the crown of New Zealand diving. A marine reserve since 1981 this subtropical reef system presents a stunning diversity of reef fish, and is a breeding ground for many sea creatures including the stingray. Broken by caves, archways and fissures, they provide many different nooks and crannies for sea life over a wide range of depths.
Waikoropupu Springs - rated in the top ten freshwater diving destinations in the world. With amazing colours and textures, it is like an underwater garden with rich growths of aquatic plant life everywhere. Scientists have recorded the horizontal visibility at 62 metres (203 feet).
White Island - an active volcano. This fascinating place offers exciting dives from pinnacles with 150 metre drop offs to cruisy reef dives. Underwater vents are a feature of this volcanic area. Fish life is extremely abundant with massive schools of native fish species.
The Riwaka Resurgence - an entry level freshwater cave dive with awesome stalagmite formations. The highlight of the dive is the massive chamber at the end of sump two with a magnificent waterfall of pink limestone cascades 20 metres down one side.
Kaikoura - beholding a vast array of wonderful and unique marine creatures from the smallest invertebrate through to the giant sperm whales. Go diving with the dolphins and fur seals or watch the whales.
Fiordland - unique because of the light-absorbing fresh water layer which restricts algal growth and allows deep water or light avoiding species such as black coral, sandpaper fish and spiny sea dragons as well as approximately 160 other species of fish to become established in shallow water.
The Mikhail Lermontov - one of the few intact ship wrecks, this massive 170 metre, 20,000 tonne Soviet cruiseliner sunk in the Marlborough Sounds in 1986. Seeing the Mikhail Lermontov, the over-riding impression that imprints on your brain is one of colossal size.
HMNZS Waikato - purposefully sunk in November 2000 and now lying 30 metres down and bolt upright, she has large holes cut in the side making entry and exit very safe so less experienced divers will gain valuable wreck diving experience.

HMNZS Tui - designed for hydrological survey and submarine hunting spy work. At 62 metres long she now lies in 30 metres of water. Penetrate the wreck through purpose cut access and exit point, and explore the control room, bridge, crew living quarters and engine rooms via established routes.

The Rainbow Warrior - the Greenpeace flagship controversially bombed in Auckland Harbour by French Secret Service agents in 1985. Relocated to the Cavalli Islands two years later, she is now a stunning artificial reef hosting masses of marine life.
River drift diving - an exhilarating experience. Watch as trout swim by while you fly along at eight to ten knots, aim for a boulder the size of a car, and at the last second zoom over the top.
Reviews / Comments for Scuba Diving
No reviews have been written write a review now.

Back to top

---