Cricket
Cricket is one New Zealand's national summer pastime. Not as popular as the national game of Rugby Union, but still very popular and the national summer sport.
Cricket has been played in New Zealand since the first Englishmen arriving in New Zealand got off the boat, in the middle of the 19th century.
The National men's team is called the "Black Caps" and are always a consistent performer on the world stage. The arch rival of the "Black Caps" is our big brother across the Tasman Sea, Australia. The National women's team is called the "White Ferns"
After the National team there are 6 cricket associations representing the whole of New Zealand (Northern Districts, Auckland, Wellington, Central Districts, Canterbury and Otago).
Below these levels are the clubs in the regions.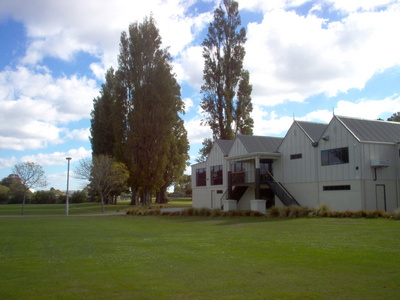 Typical New Zealand Cricket Club. This is the East Christchurch Shirley Cricket Club.
If you are looking for a club to join the first step would be to contact your local association.
Reviews / Comments for Cricket
No reviews have been written write a review now.

Back to top

---