LOTR - Wanaka
The Lord of the Rings literally dropped out of the skies into the small farming village of Tarras. Searching for open plains dotted with trees and some forest, no fences, no houses and uninterrupted views from flat land to snowtopped mountains, the crew descended in helicopters onto the banks of the Clutha River just outside Tarras township. Here, their crews filmed many of the sequences featuring the Black Riders as they searched for Frodo, pursuing him across the golden plains, and of the Orc attacks on the Fellowship. In all, crews were in this area for a month, filming many of the most immediately recognisable scenes of The Fellowship of the Ring, including Arwen and Frodo galloping through the trees to the Ford of Bruinen.
The Southern Alps, which rise behind Lake Wanaka, doubled as the Misty Mountains that surrounded Rivendell. From Wanaka's waterfront, you can look across the lake and see the backdrop that was used when the great eagle, Gwaihir, rescued Gandalf from the tower of Orthanc.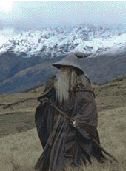 Tarras
Reviews / Comments for LOTR - Wanaka
No reviews have been written write a review now.

Back to top

---