LOTR - Waikato
The rolling farmlands of Hinuera in the Waikato were used to shoot exteriors for Hobbiton and the Shire in late 1999 and early 2000. A lush, green piece of farmland in a 500 hectare (1250 acre) working sheep farm, near the small town of Matamata, was selected to be the home of Hobbiton. Crews began building the set a year before, planting flower and vegetable gardens, hedges and trees, and allowing it to weather before filming began. Although not much remains of the original set, there are a few hobbit holes, paths and natural features, including the 'Party Tree', where Bilbo held his birthday party.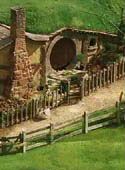 The Shire
Reviews / Comments for LOTR - Waikato
No reviews have been written write a review now.

Back to top

---