LOTR - Upper Hutt
Rivendell, the house of Elrond and home of Arwen, hosted the council over what should be done with the Ring. While much of Rivendell was computer-generated and studio-based, scenes involving Rivendell and the Fords of Isen were filmed in Kaitoke Regional Park, north of Upper Hutt and New Zealand's capital, Wellington. Scenes involving the Great River Anduin were filmed around the Hutt River from Moonshine Bridge to Poets Park, while Upper Hutt's Harcourt Park was the setting for Isengard gardens, where Saruman's orcs felled the beautiful trees of Isengard.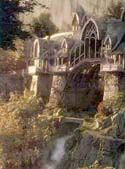 Rivendell
Reviews / Comments for LOTR - Upper Hutt
No reviews have been written write a review now.

Back to top

---