LOTR - Twizel
Twizel lies just down the road from Mt Cook/Aoraki National Park, where the spectacular opening scenes of The Two Towers were filmed. This mountain town, set in the heart of the McKenzie Basin, was used extensively for scenes involving Rohan. Ben Ohau Station, a working high country sheep station nestled at the foot of the Southern Alps, provided the plains of Rohan where Aragorn, Legolas and Gimli pursue the Orcs at the start of the film. In the third and final film of the trilogy, The Return of the King, Ben Ohau became the setting for the pivotal battle of Pelennor Field as well as the Eastemnet Gullies.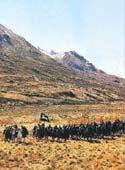 Pelenor Fields
Reviews / Comments for LOTR - Twizel
No reviews have been written write a review now.

Back to top

---