LOTR - Taupo
Scenes involving the dark lord Sauron's domain of Mordor are represented in the films by the rocky plateau of Tongariro National Park, a dual World Heritage Area dominated by its three active volcanoes, Ngauruhoe, Tongariro and Ruapehu. Other worldly formations, sulphuric pools and hot springs add to the strangeness of the barren landscape. Though the summit of the famous volcano, Ruapehu, is not to be seen on screen, out of respect for the wishes of the native Maori people to whom it is sacred, nearby Mount Tongariro served as the menacing Mount Doom. The area was used to film the prologue of The Fellowship of the Rings (the battle marking the end of the Second Age of Middle Earth) was shot in the off-season at Whakapapa ski area, on the slopes of Mount Ruapehu. The slopes near Pinnacle Ridge and the carpark are where the orcs attacked Elrond and his army, and digital 'characters' were later added to create the vast orc host.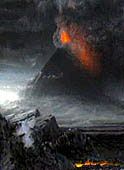 Mordor
Mt. Doom from the Lord of the Rings, New Zealand
Reviews / Comments for LOTR - Taupo
No reviews have been written write a review now.

Back to top

---