LOTR - Takaka
Takaka Hill, with its rocky marble outcrops, served as the location for Chetwood Forest, north of Bree, that was featured in The Fellowship of the Rings. This was the initial route of the Hobbits and Strider (Aragorn) on their hasty escape from Bree and the arrival of the Black Riders. The area lies on the border of Kahurangi National Park - the filming location for Dimril Dale and Eregion Hills and the Rough Country South of Rivendell.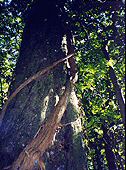 Chetwood Forest
Reviews / Comments for LOTR - Takaka
No reviews have been written write a review now.

Back to top

---