LOTR Southern South Island
This striking part of New Zealand is known for its majestic alpine scenery and the towering Mount Cook/Aoraki, New Zealand's highest peak. Stretching across the central and southern South Island, the mighty chain of mountains known as the Southern Alps was used extensively for location shooting in the The Lord of the Rings. The dramatic peaks, with their beautiful glacier carved lakes and rivers, doubled as the Misty Mountains of Tolkien's Middle Earth. The wilderness of Mount Cook/Aoraki National Park also formed the backdrop for the opening sequence of The Two Towers.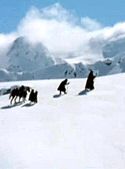 Misty Mountains
Reviews / Comments for LOTR Southern South Island
No reviews have been written write a review now.

Back to top

---