LOTR - Nelson
Beautiful Nelson, famous for its sunshine, artisans and stunning coastline, provided two of the trilogy's more spectacular locations - Mount Owen, which doubled as Dimril Dale hillside, and Mount Olympus, where the rocky outcrops served as the Eregion Hills and the rough country south of Rivendell. It was on Mount Olympus that the fellowship took cover from the crebain, the black crows of Dunland that were Saruman's winged spies. Both locations are within Kahurangi National Park, one of three magnificent National Parks located in the Nelson region. The crew had to be transported by helicopter to these remote and isolated sites, and Nelson Helicopters, now operate a special The Lord of the Rings tour.
Many props for the film were also created by Nelson's innovative artists. These include jewellery, pottery, steelwork, carvings, dyed garments, glassworks and costumes. Even the beer served at the Prancing Pony in the village of Bree was brewed by a Nelson Brewery.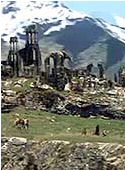 Dimrill Dale
Reviews / Comments for LOTR - Nelson
No reviews have been written write a review now.

Back to top

---