LOTR - Canterbury
Nestled in Mount Potts high country station in Canterbury was the set for Edoras, the fortress city of the Rohan people in The Two Towers. One of the more elaborate sets, Edoras took eleven months to complete and consisted of several buildings encircling a central hill that housed King Theoden's Hall, Meduseld. The finished product looked otherworldly and strangely historic, a testament to the truly remarkable atmosphere of the area and the skill of the set makers.
The rocky spur of Mount Sunday, located in the Rangitata River valley in Ashburton district (around 2.5 hours drive inland from Christchurch), just north of Mount Potts, seemed purpose-built for the production; a sheer-sided hill in the middle of an expansive plain, bordered by impassable mountains of rock and ice.
Director Peter Jackson and his team actually worked from inside the buildings that were constructed for the set - the interior scenes from Edoras were filmed several months beforehand in Wellington, so the large buildings in reality served as shelter and extravagant food tents for the approximately 300 cast and crew. When not sheltering from the elements, many of the cast used the central location as a base to explore the rest of the magnificent South Island. Sir Ian McKellen was particularly taken with a magnificent journey to Arthur's Pass with Viggo Mortensen.
Viggo Mortensen (Aragorn)
'The location for Edoras was, to me, one of the most beautiful, the most impressive. Everything was constructed on this knoll, and reading the book, it's exactly what you would dream and hope Edoras would look like, and feel like.'
Ian McKellen (Gandalf)
'Every day we went there, spirits rose, whether it had snowed overnight, or the sun was out or it was pelting rain. There was majesty to that location. A secret valley, it seemed. A place where, if it had not been for the film, one would never have visited. That was a really magical time.'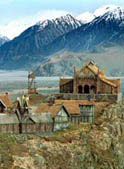 Edoras - Canterbury
Reviews / Comments for LOTR - Canterbury
No reviews have been written write a review now.

Back to top

---