Kia Kaha Golf Clothing
Kia Kaha is a Maori term for which the closest English meaning is to "stand strong" which is exactly what New Zealander Michael Campbell did at the 2005 US Golf Open as he went on to win.
Kia Kaha is also a New Zealand clothing company.
Kia Kaha Clothing
Nau mai haere mai ki a koutou e pirangi ana ki te whakamau i nga kakahu Maori. Ara, ko nga kakahu na nga tangata Maori i hoahoa, na nga tangata Maori i hanga, i te kaipakihi na te tangata Maori anake i whiwhi. Ko te mea nui ki a matou o Kia Kaha, ki te hanga i nga kakahu e pirangi ana ko nga tangata o Aotearoa ki te whakamau, a, i hanga enei kakahu kei a tatou whenua, ko Aotearoa. Heoi ano, kia tautoko, kia awhina i te tipuranga o nga tangata, o nga kaimahi o Aotearoa hoki, ko nga mea tino pono ki a matou o Kia Kaha.

Kia Kaha Clothing is a 100% Maori-owned company, specialising in providing high quality New Zealand- made apparel with authentic and distinctive Maori designs.

From a concept conceived in 1985, our kaupapa (concepts/ beliefs/aims) have remained the same.

Our kaupapa is simply to provide a quality-clothing brand that all New Zealanders will feel proud to wear. Proud because of the quality of product this country can produce and proud because of our unique and proud heritage as a nation.

We, the team at Kia Kaha feel very strongly about keeping New Zealand growing and believe that being New Zealand- made assists in the country's growth and development.

Our point of distinction is that we are 100% focused on the local market and what the people of Aotearoa want. Although we are pleased that overseas visitors like our clothing, designs are not altered to suit their preferences. In fact we find that they often prefer to have something to remember Aotearoa by which is made in New Zealand and which the locals wear, rather than a "touristy tee" made overseas.
Kia Kaha has two distinctive clothing ranges.

The first is our casual sports and streetwear range, which is sold into various shops throughout New Zealand. This includes our very popular women's fitted range and a variety of cutting edge unisex casual fashion garments. See our list of stockists to find a supplier near you. Because of the number of stockists we are unable to offer a comprehensive on- line shopping range. However from time to time some items will be available.
Our second range is our on and off field teamwear options. This is very popular because of the discounted direct prices we can offer and our ability to create a unique look in a design and colour that suit your group. This is another bonus of being made in New Zealand.

Over the years we have outfitted a number of teams, clubs, groups and schools with a look that they are proud to be associated with.
From heavy-duty rugby jerseys and tracksuits through to corporate ties and blazers we will ensure that your group looks tu meke (awesome) on and off the field.

For more teamwear information along with some design options and a list of teams outfitted go to our teamwear section.

The staff at Kia Kaha, from our administration, marketing and graphic team through to our sublimation, production and sewing teams are committed to ensuring that we create the best possible look and quality, each time, every time.

Hei konei ra. Greetings and best wishes.
The Kia Kaha Team.



Michael Campbell's US Open Replica Shirt Now Available
Get the shirt Cambo wore when he won the 2005 US Open at Pinehurst No. 2, North Carolina.
Until now this was a one-off design worn only by Michael Campbell.
Now you can have one too …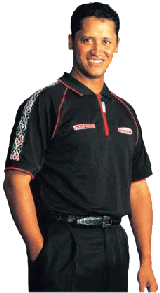 Welcome to the exciting new range of Cambo Clothing!
Cambo clothing is proudly brought to you by New Zealand's number one golfer Michael Campbell - US Open Golf Champion 2005, and New Zealand's leading Maori clothing company, Kia Kaha Clothing Limited.

All garments in the Cambo range are of the highest quality and are based on traditional designs of the Maori, the indigenous people of New Zealand.
For more information on Kia Kaha Clothing Limited
and to view the full range of Kia Kaha clothing, please click here
For background information on Michael Campbell
and to follow Michaels progress, please click here
Reviews / Comments for Kia Kaha Golf Clothing
No reviews have been written write a review now.

Back to top

---