Hot Camping Spots for Summer
12/01/2005 11:01 AM - Claire Ongley
If the weather put you off escaping for a holiday over the Christmas break, now is the perfect time to dust off the tent and find yourself a secluded spot to get back to basics for a few days. Here are some great camping spots around New Zealand ...
Mahurangi West
Mahurangi Regional Park is an hour's drive north of Auckland on the Puhoi River estuary and the Hauraki Gulf. Mahurangi West consists of the beautiful Sullivans Bay and isolated Te Muri beach.
There is a small campground at Sullivans Bay with lawn camping beside a lovely beach with grassy banks and pohutukawa trees. You can park your campervan in the carpark overnight.
For a real adventure you can camp at Te Muri Beach by crossing the estuary at low tide, at Mita Bay. This is really "getting away from it all" stuff as there is no power or hot water.
To get there from Auckland, head north on State Highway 1 towards Warkworth. About 8 kms past Waiwera and Wenderholm Regional Park, turn right into Mahurangi West Rd. Turn right onto Ngarewa Drive and drive to the end of the road.
For bookings and information call (09) 366 2000.
On The Web: www.arc.govt.nz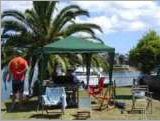 Castlepoint
Castlepoint, 56km northeast of Masterton, boasts a picturesque motor camp atop a grassy knoll over looking a sandy swimming beach. The site is scattered with classic Kiwi campervans for rent, as well as tent sites and cabins.
Castlepoint is a two and a half hour drive from Wellington through green hilly countryside. This is a great place to go to relax, go for long walks down the beach or up to the lighthouse, and feel like you are miles from anywhere. Remember to bring supplies though as there's only one shop in Castlepoint township.
For more information call (06) 372 6705 or email: holiday@castlepoint.co.nz
Port Jackson
Port Jackson is located at remote northern tip of the Coromandel. There's a Department of Conservation campsite right on the beach. Enjoy the beautiful drive up the pohutakawa-lined coast to get there and stop at the quaint Colville General Store. The last part of the trip is on gravel road, but at least this keeps the masses out.
While you're there do the one-day coastal walk from Port Jackson to Port Charles (on the other side of the Peninsula).
For DoC campgrounds in this area phone 0800 455 466 for daily updates on available campsites between December 24 - January 6. It's first in first served camping, so it's a good idea to check before making the drive north, in case the campground is already full.
Facilities are pretty basic, with toilets and cold water showers only, and fires in designated areas.
On The Web: www.coromandeltown.co.nz
Pakawau
Pakawau is between Collingwood and Farewell Spit in Golden Bay. The holiday camp is in a pretty park-like setting on a safe swimming beach. The Heaphy Track is on 35km from here should you want to head off for a bit of tramping and really get back to nature. This holiday camp is very well set up with all the mod cons and facilities for the discerning camper.
Pakawau is only a short drive from historic Collingwood which is the starting point for safaris to the bird habitat of Farewell Spit. And don't forget to visit spectacular Wharariki Beach where wind & waves have resulted in spectacular rock and sand dune formations.
On The Web: www.holidayparks.co.nz/pakawau
Lake Waikaremoana
Gorgeous Lake Waikaremoana is located in the Te Urewera National Park in the Central North Island. The scenery is breathtaking and there's some great trout fishing to be had. Brown and rainbow trout are found in Lake Waikaremoana and fishing licenses can be bought at Waikaremoana Motor Camp. Some of the countries biggest trout have been caught here.
The Waikaremoana Motorcamp is situated right on the banks of the lake. It's a serene spot surrounded by native forest with loads of great walks to explore. For a longer tramp try the Lake Waikaremoana Track which is a 46 kilometre, (three to four day) walk which follows the lakeshore.
There are two ways to get to Lake Waikaremoana (both take about 3 hours):
1. Take Pacific Coast Highway from Napier to Wairoa then SH 38 to Waikaremoana. 2. Take Thermal Highway from Rotorua or Taupo then SH 38 to Waikaremoana.
Reviews / Comments for Hot Camping Spots for Summer
No reviews have been written write a review now.

Back to top

---