NZAtoZ reviews; The Scale Of Our War, Te papa Museum of New Zealand, Wellington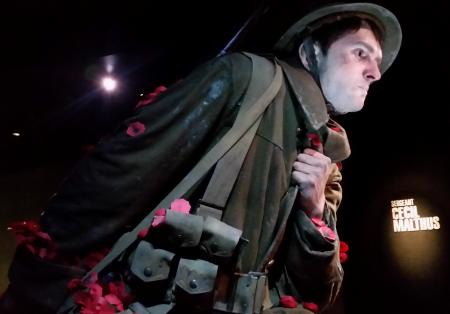 The Scale of Our War is a free interactive display created by Sir Richard Taylor of Weta Workshop. It will be on display at Te papa, Museum of New Zealand, Wellington until 2018.
The Scale of Our War is all about New Zealand's part in the World War 1 Gallipoli campaign.
It had been on display for a few months when we went along, but the line was still very long.
We asked a helper at the front of Te papa "what was the best time to see the display when there would be no queue." The answer was "no time really, but if we brought a $10 ticket at the bookshop we could be part of a limited number of people let in ½ hour before anyone else".
So at 9.15am Sunday morning we turned up to buy our tickets, but they were already sold out. Luckily there was a person selling theirs at the bookshop, so we got on the "tour".
It is not a tour, it is just around 50 people who are let in early. We got in, had a quick look at the first display then moved on to get ahead of the crowd, brilliant idea, you can always go back. From there we had each room to ourselves. You are allow to use non flash photography so no one was around for the many pictures taken.
The models are absolutely amazing, and no photos do them justice. The stories are moving, and as you move through the exhibition you get to feel what the people on Gallipoli had to go through. It is not a loud exhibition, which is great, as you don't walk out with a headache.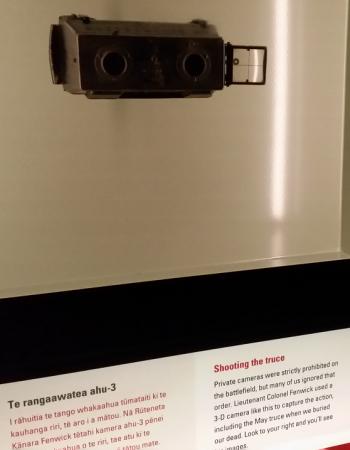 Something I have never seen before were the 3D photos taken at Gallipoli. Yes, a 1915 3D camera.
In Wellington this is a must see, and we suggest the $10 morning "tour" ticket.
But buy it the day before!
Enjoy.
Reviews / Comments for NZAtoZ reviews; The Scale Of Our War, Te papa Museum of New Zealand, Wellington
No reviews have been written write a review now.

Back to top

---