Felton Industries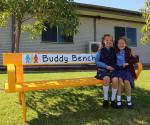 Shop from wide range of aluminium outdoor furniture, park furniture, school furniture, grandstand seating and outdoor bench seats at the best prices from Felton Industries. Here you can buy buddy bench for schools or buddy bench at best price, So buy in bulk and Save!
---
Phone Contact:
International 1800 83 40 16
Fax 1800 05 91 58


Email:
sales [at] felton [dot] net
[dot] au
Reviews / Comments for Felton Industries
No reviews have been written write a review now.

Back to top

---